Infamous Christian fraud Joel Osteen recently endorsed Donald Trump for president, to no one's surprise. While Trump is a controversial figure in evangelical Christian circles, with some supporting him strongly and others condemning him even more strongly, the prosperity gospel preachers absolutely love him.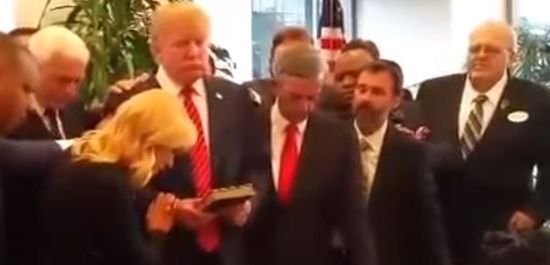 But in the midst of this whirlwind of divine dismissals, there is one group of faithful that has consistently called Trump a friend, and vice-versa: preachers of the so-called "prosperity gospel."

In its simplest form, the prosperity gospel is an American Christian movement that teaches followers they can become rich though the art of positive thinking — and, more importantly, cutting large checks to their church and pastor. The controversial theology has long been criticized by progressive and conservative Christian leaders alike, especially the spending habits it encourages among ministers who uphold it, such as when Creflo Dollar (his actual name) of College Park, Georgia, asked his constituents to help him buy a private jet.

But just like Trump's unexpected rise to power within the GOP, prosperity preaching has proven inexplicably attractive: Lakewood Church, the congregation of megapastor and New York Times bestseller Joel Osteen, is now the largest church in the United States, filling seats in the retrofitted former home of the Houston Astros with as many as 40,000 worshippers every Sunday, all eager to hear the ostensibly lucrative message of the prosperity gospel.

The movement's expansive influence is likely why Trump met with 40 prosperity gospel preachers and televangelists on the 26th floor of Trump Tower in September 2015. The meeting, which included prominent prosperity preachers such as Gloria and Kenneth Copeland, was blasted by Russell Moore as a gathering of "heretics," but Trump won over the glitzy crowd anyway.

"I believe there's a reason why Mr. Trump is making such an impact with such a broad range of constituents," prosperity preacher Clarence McClendon, known for his stint on the reality television show Preachers of L.A., told CNN.

Other prosperity preachers have heaped praise on Trump over the past few months. Mike Murdock, known for being skewered by HBO talk show host Jon Oliver for exploiting his parishioners with shady money-making schemes, endorsed Trump ahead of the South Carolina primary, saying he "has a warrior spirit for restoring America in the eyes of the world and he has a warrior's heart." And on March 5, prosperity preacher Paula White told the 10,000-plus crowd at a Trump rally in Orlando that the businessman "needs to be our next president," reminiscing about the time she gave him a Bible signed by famous evangelist Billy Graham…

"I'm not really up to speed on all the politics," Osteen replied. "[But] Mr. Trump is an incredible communicator and brander, like President Clinton said. He's been a friend to our ministry. He's a good man."
Yeah, he's a good "brander." Just like Osteen, who markets a product — fake salvation — that makes him incredibly rich. All of this makes perfect sense? What is Trump if not a secular prosperity gospel preacher? He sells the illusion of wealth and success, based almost entirely on selling his name to put on everything from steaks to casinos. The now-infamous Trump "University" was nothing but a secular prosperity gospel church: Send us thousands of dollars and the great god Trump (Peace Be Upon Him) will shower you with blessings of riches. Con men support con men.