This has happened many times and it never stops making me laugh. Glenn Beck picks up on some little "fact" and goes off on a rant about it, then he gets debunked by his own website. This time he went off about George Soros donating money to John Kasich's Super PAC to sow chaos at the Republican convention. Then The Blaze reported that Soros didn't donate a dime.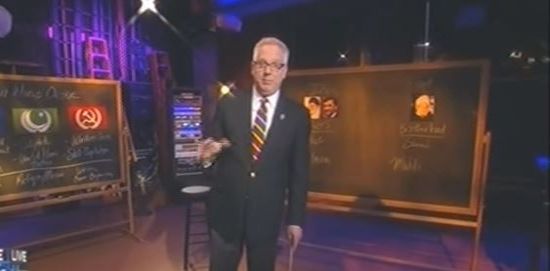 On his radio show last week, Beck declared that Soros was backing Kasich in an effort of foment a brokered Republican convention, all for the purpose of sowing chaos.

"I know this," Beck said, "Soros, like the imams over in Iran, like the people over in Europe that are, what is it, The Coming Insurrection people, like Occupy Wall Street, like Black Lives Matter, they all want one thing, and that is chaos."

On his television show that night, Beck even hauled out his trusty chalkboard covered with a drawing of an octopus to highlight "the tentacles of George Soros" that now reached all the way into the Kasich campaign.
And then his own website reported:
Neither progressive billionaire George Soros — who has bankrolled numerous far-left initiatives and Democratic political campaigns — nor his company has spent money to support the campaign of John Kasich for president.

Still, numerous conservative news sites have pointed to campaign finance watchdog Center for Responsive Politics, which lists the Soros Fund Management company as a prominent supporter of the of Kasich super PAC New Day for America, with $200,000 in donations. In some cases, the news accounts presented Soros as backing Kasich to cause mayhem in the Republican presidential primary — to either draw votes from front-runner Donald Trump or Texas Sen. Ted Cruz.

However, the firm Soros Fund Management did not give money to the Kasich super PAC. Rather, a one-time top-ranking executive, Scott Bessent, made two separate $100,000 donations to New Day — one on Oct. 21 and second on Dec. 8, according to the Center for Responsive Politics.

Another close Soros associate, Stanley Druckenmiller, whom Forbes once referred to as "George Soros's main man," gave three separate contributions of $150,000 to the Kasich super PAC, for a total of $450,000. Druckenmiller heads the Duquesne Family Office hedge fund firm. Druckenmiller made his first donation to the Kasich super PAC on Aug. 10 and the other two in February…

Bessent was the chief investment officer for Soros Fund Management. A Soros Fund Management spokesman who did not provide his name told TheBlaze, said, "Scott Bessent doesn't even work here any more, which is neither here nor there." The spokesman angrily asserted that the firm itself did not contribute to the Kasich PAC.
I love that they mention that many conservative news sites have made this false claim, but don't mention that this includes the guy who pays their salaries.