Politico has an interesting article about Shelden Adelson and other big-money Republican donors being disillusioned with both Trump and Cruz as the party's presidential nominee. For now, they're mostly sitting on the sidelines and some are focusing more on downticket races instead of the presidential campaign.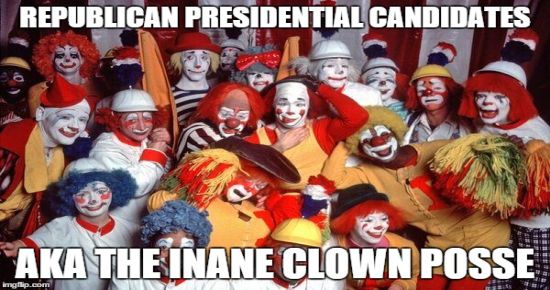 Dispirited over a Republican Party primary that has devolved into an ugly, damaging fight, some of the GOP's biggest financiers are reevaluating whether to invest in the 2016 presidential contest at all.

Among those on the sidelines: Sheldon Adelson, the billionaire casino mogul who hosted the Republican Jewish Coalition's spring meeting at his Venetian hotel this weekend. His apparent ambivalence about 2016 was shared by many RJC members here. With grave doubts about the viability of the few remaining Republican contenders, many of these Republican donors have decided to sit out the rest of the primary entirely. And while some are reluctantly getting behind a remaining candidate, others are shifting their attention to congressional contests…

Following the nearly 30-minute presentation, the group turned to a discussion about what's next in the race. While some in the room spoke in favor of Cruz, others expressed reservations about his prospects in the general election. Trump, meanwhile, had little support: Not one person volunteered to raise money for him if he were the nominee.

Over the course of the weekend, some of the party's disappointed and most sought-after contributors said they may be done with the 2016 race. Mel Sembler, a Florida real estate executive and former U.S. ambassador, said that after helping to bankroll Jeb Bush's campaign, he had turned his attention to defeating a local medical-marijuana initiative.

"That's my focus for the rest of this year," he said.

Easily the biggest holdout, though, is Adelson. Despite spending more than $100 million on the 2012 campaign — some of it on former House Speaker Newt Gingrich's unsuccessful primary effort that year — the 82-year-old mogul has yet to pick a favorite 2016 candidate. His advisers say that he will not endorse anyone until the Republican nomination is decided, at the earliest.

As the volatile primary rumbles toward a conclusion, some of the most prominent GOP donors are turning their attention toward races for House, Senate and governor. While in Las Vegas last week, Ron Weiser, a former Republican National Committee finance chair, ferried around Eric Greitens, an Iraq and Afghanistan war veteran who is running for Missouri governor. Greitens was among the small group that joined Adelson at his home Thursday evening.

Weiser, who cut a check to Marco Rubio, said he was uncommitted in the GOP primary.

The conference was jampacked with down-ballot contenders eager to make inroads with deep-pocketed contributors. Florida Rep. Carlos Curbelo, one of the most imperiled House Republicans, attended a Shabbat dinner along with Wisconsin Sen. Ron Johnson, who is facing a challenging reelection contest. Jon Keyser, an attorney running for Senate in Colorado, was the subject of much interest among those at the Venetian.

After helping Rubio, former Minnesota Sen. Norm Coleman, an RJC board member, said he'd turned his attention to leading American Action Network, an outside group that spends in congressional races. With Trump as the possible nominee, Coleman said there are growing worries that he could imperil the party's hold on the House and Senate.

"We've been getting a lot more folks coming to us," he said. "One of the realities of a Trump candidacy is it puts the House in play, as it does a number of Senate seats."
This is probably smart politics. Neither Trump nor Cruz will be good for House and Senate candidates. Trump is electoral poison and Cruz, since joining the Senate, has done nothing to help other candidates and much to infuriate them. Both would put the Senate in play and Trump would probably put the House in play as well.