Jesse Lee Peterson, the deeply misogynist black right-winger who thinks racism doesn't exist and that women shouldn't have the right to vote, told gun fetishist Larry Pratt that the reason black people didn't support the candidacy of Ben Carson is because they're "in an evil state" and listening to Satan.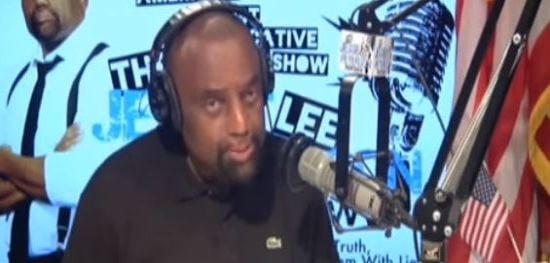 Peterson told Pratt that once Americans "dispel that notion that racism exists," liberals will lose power because "their father the Devil" feeds on such lies…

Peterson told Pratt that African American voters didn't support Carson's presidential bid because they're in an "evil state" and "prefer evil over good."

"And yet, in their fallen state of anger, most blacks see Dr. Carson as the enemy and they see Jeremiah Wright as the good guy," he said. "And even though Jeremiah Wright speaks evil, he is evil, but because they're in that evil state, they identify with him over a good, decent man like Dr. Ben Carson. And blacks would never vote for him, the majority would never vote for him because any time a person who's good like that, they see them as a sell-out, they don't accept good, they prefer evil over good and they call evil good and they call good evil."
Sounds totally reasonable, amirite?