Tony Ortega, who does more good work to expose the totalitarian cult of Scientology than anyone else these days, has the story of Ron Miscavige, father of the current leader of the cult, David Miscavige. Ron has a new book coming out about his escape after 40 years and how his son treated him afterward.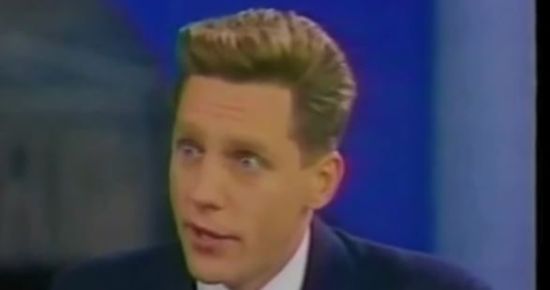 Yesterday, we described how David Miscavige's family has been ripped apart by Scientology's toxic policy of "disconnection," which has left David and his twin sister, Denise Gentile, cut off from other members of the family, including their father, Ron Miscavige.

On May 3, Ron will release a memoir titled Ruthless: Scientology, My Son David Miscavige, and Me. On April 29, he will be interviewed by ABC's Dan Harris as part of a full hour 20/20 is dedicating to Scientology. The book and interview come as the result of series of events that began with Ron's escape from Scientology's International Base near Hemet, California in March 2012.

Ron had been a Scientologist for about 40 years, and was a well liked and popular member as the Sea Org's musical director. But by 2012, he could no longer take the deprivations of Sea Org life under his dictatorial son, and with his wife Becky Bigelow, he "blew" from the base, as Scientologists say. We're looking forward to reading in his book just how he managed that escape.

Over the next two years, Ron and Becky worked to re-adapt to life outside the Sea Org. They lived for a while with Ron's son Ronnie Jr. in Virginia. Then they moved to Wisconsin to be near Becky's family. And it was there, in 2013, that the West Allis, Wisconsin police department contacted Ron about a strange arrest they had made. A father and son private investigator team, Dwayne and Daniel Powell, had been found to be carrying a massive arsenal of weapons and ammunition that included an illegal homemade silencer. Facing ten years in federal prison, Dwayne Powell and his son spilled their guts to police in taped interviews. They admitted that they were being paid $10,000 a week to follow Ron on behalf of his son, David Miscavige, and the Church of Scientology.

At one point, they say in the interviews, they saw Ron clutch at his chest and thought he might be having a heart attack. When they called for instructions, they said David Miscavige himself got on the line and told them to do nothing. "If he dies, he dies," Miscavige told them, according to the Powells.

Stunned by the news, Ron obtained copies of the recorded interviews. Meanwhile, as we detailed in yesterday's story, the Miscavige family in Florida was being torn asunder. Denise and her sister Lori were being told to cut off all ties with Denise's ex-husband, Robert Covington, and his family. And at the same time, they were drawing away from their father Ron.
That tells you pretty much all you need to know about that man, doesn't it? He should be in prison, not sitting on top of an empire with vast wealth.