Bill O'Reilly loves nothing more than getting himself worked up into a lather and pointing fingers all over the place. Did you know that it's Obama's fault that people use hard drugs? I didn't either. And do you know why it's his fault? Because he apparently knows what words mean.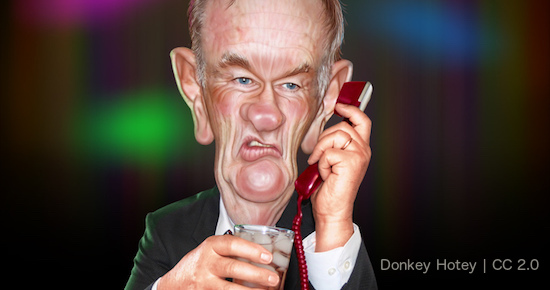 BILL O'REILLY (HOST): Over the years there have literally been millions of stories like that one, and it is simply stunning that our culture has evolved to a point where the sale and use of hard narcotics is now acceptable. President Obama's leading the way on this, classifying drug dealing, hard drug dealing, as a, quote, "nonviolent crime." That sends a signal to the country that, you know what, it may be illegal to sell drugs, but it's not all that bad. And the left is generally supporting the madness.
Uh, Bill…unless there's violence involved in the transaction, drug dealing is, in fact, a non-violent crime. That's what that word means, you see. If I sell you a bag of dope and you pay for it and we both drive away without any physical confrontation, then that transaction was — by definition — non-violent. Still illegal. Still might be very bad for the person who takes the drugs, depending on the drug. But it isn't violent. Thus ends our lesson in using a dictionary.