It appears that Bernie Sanders may get a small victory in Indiana, though as I'm writing this it hasn't been called yet. I'm sure the wildly unrealistic Sanders fans will be furiously telling each other that this proves he can still win, but I'm sorry to inform you that this simply is not the case. He's done. Stick a fork in him.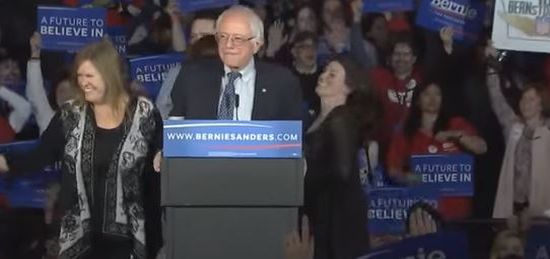 The problem Sanders has is that the Democratic party awards their delegates proportionally rather than winner-take-all. When you're trying to come from behind in terms of delegates, winning 55-45 does very little to close the gap. Even if he wins Indiana by 5-6%, he only gains a handful more delegates than Clinton does. There are 13 contests left. Here are the numbers Sanders would have to hit in those remaining primaries to make up the difference: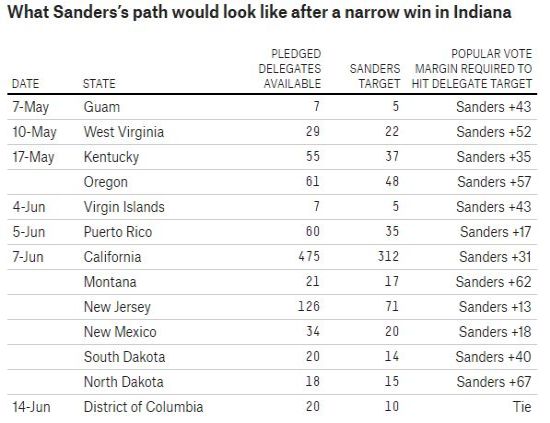 He would have to beat Clinton by 40, 50, sometimes 60 points in some of these states to have any chance of catching up. It simply isn't going to happen, folks. It's time for Sanders fans — and again, I'm one of them — to shift their focus from winning the presidency to building a real movement to accomplish his primary goal, which is to get the influence of big money out of our political process as much as possible. So what does that entail?
First, it means supporting Hillary Clinton in the general election. What is it that is currently preventing us from passing any meaningful legislation to limit the influence of big money? The Supreme Court's Citizens United ruling. If the Republicans win, any hope of adding a liberal justice to the Supreme Court that could help overturn that ruling dies for at least the next generation, maybe more. On the other hand, a Democratic president gets to replace Scalia and there would then be a liberal majority on the court and overturning that ruling becomes entirely plausible. Bernie voters who refuse to vote for Clinton, even if they have to hold their nose to do it, will be cutting off their nose to spite their face and dramatically reducing the chances of achieving Bernie's top policy priority.
Second, it means building up an organization that can recruit, train and fund candidates who share Bernie's vision of not only reducing the influence of big money, but also favors stronger regulation of big business — the very thing that the outsized influence of their money seeks to prevent. Overturning Citizens United is just the first step. The second step has to be electing people to Congress who will vote for serious campaign finance reform, not the weak sauce that was McCain-Feingold. This requires money, organization, and professionals who know how to run campaigns and how to think strategically in politics.
You can rage all you want about how unfair the system is, but that rage doesn't actually change anything if you can't translate it into effective legislative action. So yeah, Bernie is going to lose the Democratic nomination. That doesn't mean he's going to lose the larger battle. Winning that battle is up to his supporters and those who share his vision, but if all you're going to do is kick and scream and cry about dark conspiracies, you won't achieve a damn thing. So if you want Bernie to win something more important than the White House, get your heads out of the clouds and get to work.