It's amusing to me how divided the Christian right is over Donald Trump. Some have endorsed him, some are #NeverTrump. And some have claimed that God has anointed Trump to save the country. But kill-the-gays talk show host Kevin Swanson says God is going to make Trump president in order to destroy America.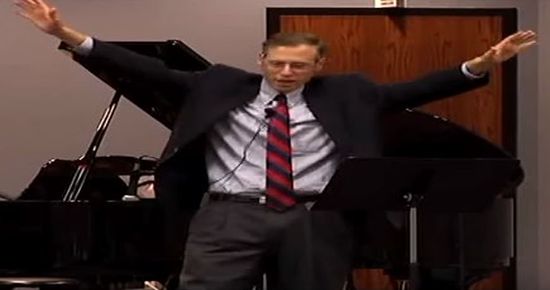 "The rabble and the mob" have flocked to Trump, Swanson said, and so God will use the billionaire mogul to bring about His plan to finally destroy this nation.

"He sets up over the empires the basest of men and prepares the empires for the dismantlement," Swanson said, "as He did to Babylon, as He did to Assyria, as He did to Persia, as He did to Greece, as He did to Rome. This is the process. The way in which empires come down is the basest of men are put in control according to the sovereign ordination of Almighty God."

"You're talking about the absolute lowest, least qualified, basest of men are put in position in order that these kingdoms, these empires may come down," Swanson said.
Funny how all these people who are absolutely certain that they know God's will can't ever agree on what they think God is planning to do. Some are sure God has anointed Trump and will make him president, just like many more were sure that God had anointed Ted Cruz and was going to make him president.