The Department of Justice filed a federal lawsuit against the state of North Carolina for its ban on allowing transgender people from using the public restroom that matches their gender identity. Attorney General Loretta Lynch delivered a powerful statement at a press conference announcing the suit: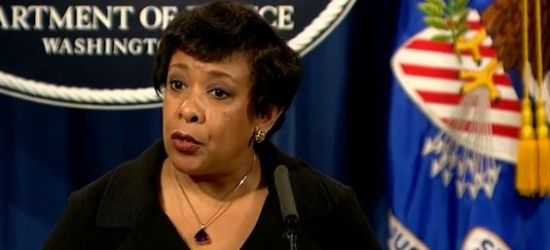 This action is about a great deal more than just bathrooms. This is about the dignity and respect we accord our fellow citizens and the laws that we, as a people and as a country, have enacted to protect them – indeed, to protect all of us. And it's about the founding ideals that have led this country – haltingly but inexorably – in the direction of fairness, inclusion and equality for all Americans.

This is not the first time that we have seen discriminatory responses to historic moments of progress for our nation. We saw it in the Jim Crow laws that followed the Emancipation Proclamation. We saw it in fierce and widespread resistance to Brown v. Board of Education. And we saw it in the proliferation of state bans on same-sex unions intended to stifle any hope that gay and lesbian Americans might one day be afforded the right to marry. That right, of course, is now recognized as a guarantee embedded in our Constitution, and in the wake of that historic triumph, we have seen bill after bill in state after state taking aim at the LGBT community. Some of these responses reflect a recognizably human fear of the unknown, and a discomfort with the uncertainty of change. But this is not a time to act out of fear. This is a time to summon our national virtues of inclusivity, diversity, compassion and open-mindedness. What we must not do – what we must never do – is turn on our neighbors, our family members, our fellow Americans, for something they cannot control, and deny what makes them human. This is why none of us can stand by when a state enters the business of legislating identity and insists that a person pretend to be something they are not, or invents a problem that doesn't exist as a pretext for discrimination and harassment…

Let me also speak directly to the transgender community itself. Some of you have lived freely for decades. Others of you are still wondering how you can possibly live the lives you were born to lead. But no matter how isolated or scared you may feel today, the Department of Justice and the entire Obama Administration wants you to know that we see you; we stand with you; and we will do everything we can to protect you going forward. Please know that history is on your side. This country was founded on a promise of equal rights for all, and we have always managed to move closer to that promise, little by little, one day at a time. It may not be easy – but we'll get there together.
Wow. That is very powerful. And accurate. And this is an important suit that will test the DOJ's position that the ban on discrimination on the basis of gender includes discrimination on the basis of sexual orientation, gender identity and gender expression. That legal theory has won in a couple of smaller circumstances, but this would be the biggest test of it yet. Especially if the next justice on the Supreme Court is appointed by Democrats, this could be a real game-changer in the battle for LGBT equality.