Zack Copplin, the incredibly diligent young man who has been exposing the teaching of creationism in schools in Louisiana, has an article at the Daily Beast detailing how students in Youngstown, Ohio are being shown a creationism video put out by a Muslim sex cult in their biology classes.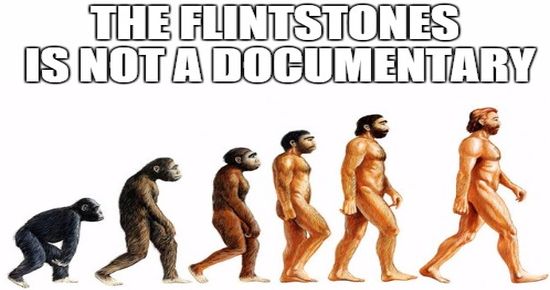 Youngstown, Ohio, students are learning creationism in school with materials from a Islamic, Holocaust-denying group accused of being a sex cult.

A curriculum map (PDF) recommends teachers in this public school district show a creationist video, Cambrian Fossils and the Creation of Species, as part of 10th-grade science education. The video claims that the Cambrian Explosion "totally invalidates the theory of evolution." The Cambrian Explosion was a time period, nearly 550 million years ago, where, over the next tens of millions of years, the number of species on Earth experienced a (relatively) rapid expansion by evolutionary standards. Christian creationists regularly point to this explosion of life as evidence for creation by God and against evolution.

Blink and you'd miss the Islamic connection in the video. A black screen flashes for less than one second that says "this film is based on the works of Harun Yahya." In the right corner, there's a gold bubble that says, "Muhammad is the messenger of Allah" in Arabic.

Harun Yahya, whom The Daily Beast has covered before, is a pseudonym for Adnan Oktar, a creationist cult leader and Islamic televangelist who owns Turkey's A9 TV channel. Yahya (along with his followers) is the author of hundreds books, including an 800-page Atlas of Creation, and another (PDF), which Oktar has now disavowed, titled The Holocaust Deception: The Hidden Story of Nazi-Zionist Collaboration and the Inner Story of the Hoax of "Jewish Holocaust."

On Oktar's A9 channel, a group of women in tight-fitting designer clothes and dyed blond hair help him promote Islam and attack evolution, all the while calling him "master." Oktar refers to the women as his "kittens," and as Slate reports, he "offers [his kittens'] beauty as evidence of Islamic creationism."
Oktar is a complete fraud and a first class weirdo to boot. How on earth this ended up in a public school science classroom in the United States really needs to be discovered. But that's not the only creationist material being used in class:
The district's curriculum map calls for teaching "an alternative theory called Intelligent Design," which is another name for creationism. Youngstown suggests teachers show a creationist video, Unlocking the Mystery of Life, produced by the right-wing Christian advocacy group Focus on the Family and by the Discovery Institute, a creationist think tank.

"Students are reminded how the irreducibly complex system like the flagellum of a bacterial cell could not have evolved slowly, piece by piece and serves as a counter-example to evolution," says the curriculum, citing another disproven creationist talking point. It also recommends the video Darwin's Dilemma, also produced by the Discovery Institute. Other materials call evolution a "theory in crisis," and were created by the All About GOD ministries.
We've been through this in Ohio before. The creationists tried mightily to get their material into science classrooms under the guise of "teaching the controversy" but they failed. Now it's obviously being snuck in the back door. I smell a lawsuit coming.