It almost seems anti-climactic to give a Bryan Fischer Award to Glenn Beck. The award, which is given to those who display a staggering lack of self-awareness and self-contradiction, could just as easily be named after Beck himself. And this latest example is simply precious. He's talking here about the jerk who accused Whole Foods of putting "fag" on a cake he ordered.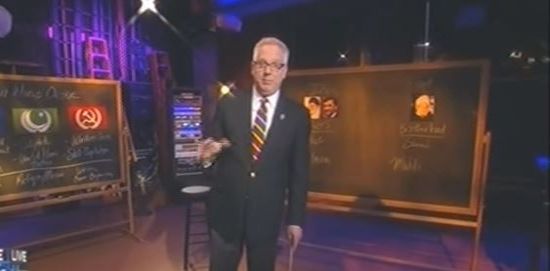 "Again, we find over and over and over, the leftist activists that run false flags," Beck said. "They make this stuff up or set people up and then run with it and then it's found out and nobody does anything about it. There is never a consequence … You were trying to destroy their business. You were calling them the worst names you could. You were going to make them into a sub-human in their own community, and an apology is okay? Is there no consequence any more?"

"Don't drop the lawsuit," Beck said, because baseless smears like this "destroy people."

"You have to now teach others: Don't you dare even try it," Beck stated, "because if you're lying about it, I will destroy you … Don't bring a knife to a gun fight. That's what I'm saying. You pull a knife on me, I got a gun so I'm gonna defend myself. Keep your cute little knife, but if you're trying to smear me, you're trying to defame me and you're taking me to court, okay, you could win, that's fine. But should we, as companies, go after those people and say, 'No, that's not enough, that's not enough, I want to teach everybody else, I'm putting an end to this nonsense.' You don't do that. You don't do that. Where everybody else settles and walks away and is just like forget it, let's just get back to work. I'm not sure that's the right thing to do anymore."
Uh, Glenn…you're currently being sued for falsely accusing a man of terrorism with no evidence whatsoever. And there's a very good chance you're going to lose. But this is excellent advice to the plaintiff in that case. I bet he appreciates it.