For years, Donald Trump has repeatedly called climate change a hoax. He even claims that the hoax was invented by the Chinese to gain a competitive advantage over the United States (and it worked — he put his sweatshops there!). Now he suddenly believes in it because it threatens his seaside golf course.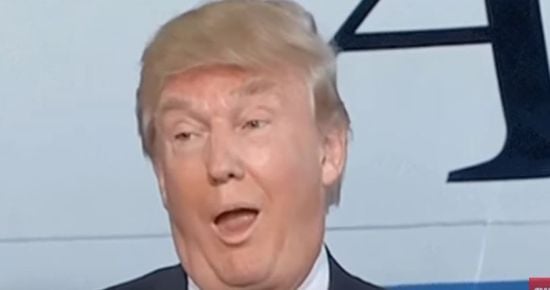 The New York billionaire is applying for permission to erect a coastal protection works to prevent erosion at his seaside golf resort, Trump International Golf Links & Hotel Ireland, in County Clare.

A permit application for the wall, filed by Trump International Golf Links Ireland and reviewed by POLITICO, explicitly cites global warming and its consequences—increased erosion due to rising sea levels and extreme weather this century—as a chief justification for building the structure…

Days before he concluded his purchase [of the golf club in 2014], a single storm eroded as much as eight meters of frontage in some parts of the golf course. Since acquiring the property, Trump has been trying to build coastal protection works to prevent further erosion.
It's a hoax…unless there's money at stake, then suddenly it's real. Let's take a stroll down memory lane: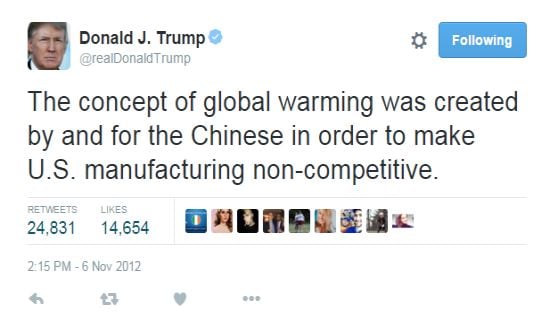 He has since claimed that this was a joke, but in saying that he then repeated it quite seriously:
On Jan. 18, after Sanders had attacked Trump's climate change views in the Democratic debate, Trump told Fox & Friends, "Well, I think the climate change is just a very, very expensive form of tax. A lot of people are making a lot of money. I know much about climate change. I'd be — received environmental awards. And I often joke that this is done for the benefit of China. Obviously, I joke. But this is done for the benefit of China, because China does not do anything to help climate change. They burn everything you could burn; they couldn't care less. They have very — you know, their standards are nothing. But they — in the meantime, they can undercut us on price. So it's very hard on our business."

So Trump has said his 2012 tweet was a joke. However, he has used the word "hoax" repeatedly in describing climate change, although he doesn't always fault China. (For the record, in 2014 we rated the claim that climate change is a "hoax" Pants on Fire.)

Most recently, on Dec. 30, 2015, Trump told the crowd at a rally in Hilton Head, S.C., "Obama's talking about all of this with the global warming and … a lot of it's a hoax. It's a hoax. I mean, it's a money-making industry, OK? It's a hoax, a lot of it."

That's three times using "hoax" in one sentence. Trump has also used the word on Twitter since that 2012 tweet.

On Jan. 25, 2014, Trump tweeted, "NBC News just called it the great freeze — coldest weather in years. Is our country still spending money on the GLOBAL WARMING HOAX?"

On Jan. 29, 2014, Trump tweeted: "Snowing in Texas and Louisiana, record setting freezing temperatures throughout the country and beyond. Global warming is an expensive hoax!"
Yeah, that Trump is a real straight shooter, a brave truth-teller.