Donald Trump is going all in on his repeated claim that global warming is a hoax and that making the changes necessary to prevent its worst impacts will destroy the economy, saying that if elected he will pull out of the Paris climate agreement and approve the Keystone pipeline.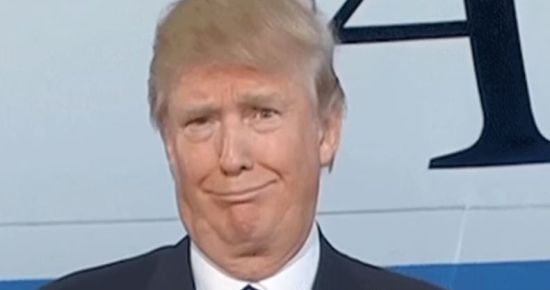 Donald Trump, the presumptive Republican presidential nominee, said on Thursday that he would pull the United States out of the U.N. global climate accord and slash environmental regulations on the energy industry if elected…

"We're going to cancel the Paris climate agreement," Trump said at the Williston Basin Petroleum Conference in Bismark, the capital of North Dakota, the second largest U.S. oil-producing state. It was Trump's first speech detailing the energy policies he would advance from the White House.

Trump said he would invite TransCanada to reapply to build the Keystone XL pipeline from Canada to the United States, reversing a decision by the administration of President Barack Obama to block the project over environmental concerns.

"I want it built, but I want a piece of the profits," Trump said. "That's how we're going to make our country rich again."
Now remember, he said this literally two days after it was revealed that his company has applied to build a high sea wall at one of his golf courses in Scotland in order to protect the property from the rising seas resulting from global warming. So he knows damn well that global warming is real and has serious consequences. But he's more than willing to screw over pretty much the entire world in order to get elected. Speaks volumes about the man, don't you think?