Wendy Long, Republican Senate nominee in New York, spoke to the state chapter of the Oath Keepers, a far-right extremist group that supports the Bundys and nearly every stupid right-wing conspiracy theory about Obama and even about other Republicans.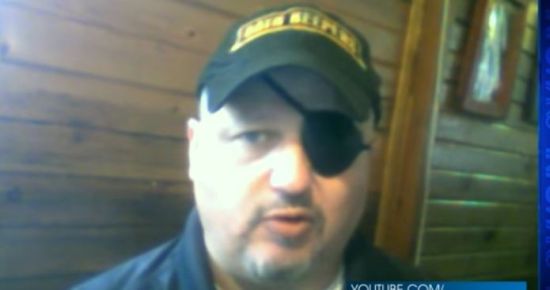 At the New York Oath Keepers event, Long thanked Oath Keepers leader Stewart Rhodes "for founding this whole organization" and appealed to her audience by declaring that Sen. Chuck Schumer, the Democrat whom she is hoping to unseat, is "one of the greatest enemies of the Constitution."

"I am running against one of the greatest enemies of the Constitution, Chuck Schumer, in the United States Senate," she said. "He's an enemy not only of the Second Amendment — which, you know, everyone knows he's the face of the anti-Second Amendment movement, which, by the way, is in great peril."

Mentioning the recent Ninth Circuit ruling on concealed firearms, Long said, "The Second Amendment's in great danger, as is the rest of the Constitution, as you all know."

As it happens, Schumer was named at the event as one of the group's "dirty dozen" of "great Marxist traitors in America."
When you hear a right-winger calling mainstream Democrats "Marxists," you know that you have no need to take them seriously about anything ever again. Especially Schumer, for crying out loud, who has been in the pocket of Wall Street his entire career. Wendy Long is a buffoon. She used to lead the Judicial Confirmation Network when it was still known as the Judicial Crisis Network. That was when Bush was president and the group argued that every single judicial nominee must receive an up-or-down vote or the republic will be destroyed. The moment Obama took office, they changed their name and flipped positions to the exact opposite. Not even a hint of principle, just blind partisanship.
And Stewart Rhodes, founder of Oath Keepers, is a total douchebag. This is the guy who thinks John McCain should be executed for treason, for fuck's sake.