The Supreme Court deadlocked 4-4 on President Obama's immigration orders that would have deferred deportation for the undocumented parents of immigrants born in the United States and others, leaving the appeals court order, which struck down the plan, in place.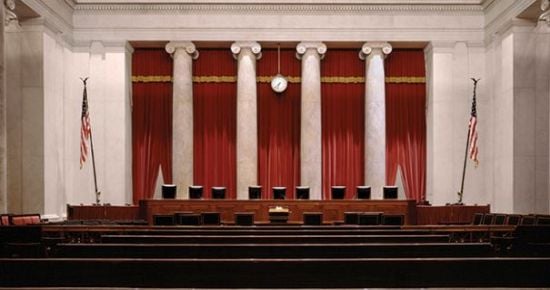 In an anti-climatic end to what, at one point, appeared like it would be one of the most important immigration cases to reach the Supreme Court in decades, the justices split 4-4 on Thursday on a challenge to Obama administration programs that could have allowed nearly 5 million undocumented immigrants to temporarily work and remain in the country. Though this decision is a tie and will not bind future court decisions, it is, in effect, a shattering loss for the immigrants who hoped to benefit from these programs.

The plaintiffs in this case, led by the state of Texas, appear to have actively shopped around for a trial judge who is openly hostile to immigrants. That strategy has now paid off. The trial judge, Judge Andrew Hanen, issued an unusual nationwide injunction halting the new immigration programs. And a split decision in the Supreme Court is not enough to lift that injunction.

Texas v. United States involves a new program, Deferred Action for Parents of Americans and Lawful Permanent Residents ("DAPA") and an expansion of the existing Deferred Action for Childhood Arrivals ("DACA"). Both programs relied on the executive branch's broad discretion to set enforcement priorities in the immigration context, as well as longstanding laws and regulations establishing what happens to immigrants granted "deferred action," a kind of low-priority status which indicates that they will not be targeted for deportation proceedings.
This may be temporary, as the case would likely be reheard once there is a ninth justice on the court, but obviously the outcome will likely depend on whether that justice is appointed by a Republican or a Democrat. There is no written opinion in the case, which is a per curiam order that says, in full, "The judgment is affirmed by an equally divided Court." In the meantime, however, families could be split apart as parents are deported and children are allowed to stay. The consequences for those families could be devastating.
What is most strange about this is that just four years ago, this same court ruled that, "A principal feature of the removal system is the broad discretion exercised by immigration officials," and confirmed that the executive branch had wide latitude to prioritize deportations based on a variety of factors. That opinion was joined by both Justice Kennedy and Chief Justice Roberts, who apparently flipped their vote in this case (we don't know for certain which justice was on which side, but that's certainly a safe assumption).