Milo Yiannopoulos and Gavin McInnes staged a kiss during a press conference to make an anti-Muslim statement and Christian fascist Theodore Shoebat is now demanding that they be put to death. Because he hates Islam, don't you know, but just loves that anti-gay Sharia law stuff.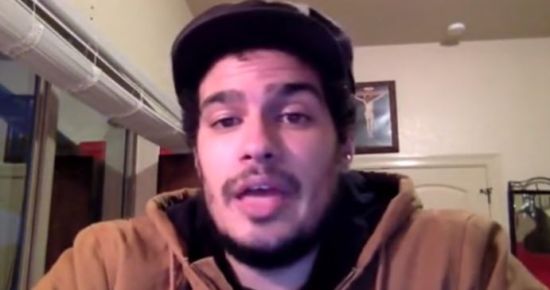 "The only thing I can do is conclude that [McInnes] is a sodomite," Shoebat said, "Gavin McInnes is a sodomite plant, he is a deviant and he is worthy of death … You are lower than the lowest bacteria. Pigs have more decency than you, Gavin McInnis. Swine has more decency, there are dogs that have more decency. What a sick, perverted individual you are! You are on the road straight to hell, Gavin McInnes. You are fooling them. You are full of demons. Your soul has been utterly possessed by the diabolical. You are worthy of execution! You are worthy of death. Bottom line."

"And that faggot that he kissed, Milo Yiannopoulos, is also worthy of death," Shoebat later declared. "If I had the power, I would string him up, put a noose around his neck, put him before a firing squad, any means necessary to annihilate these bastards. It's just so disgusting."
As tempting as it is to get rid of Yiannopoulos, as annoying a misogynist douchebag as one is likely to encounter anywhere, it's a little late to try to get on my good side now, Teddy. I find it hilarious that he's so fervently opposed to Islamic fundamentalism when he thinks just like them.