Fascist Maricopa County, Arizona Sheriff Joe Arpaio is, well, being Joe Arpaio again, telling a right-wing radio show host that he doesn't care that the inmates in his tent concentration camp suffer through near-140 degree temps and that he's going to put American flags on their uniforms. Because of course he is.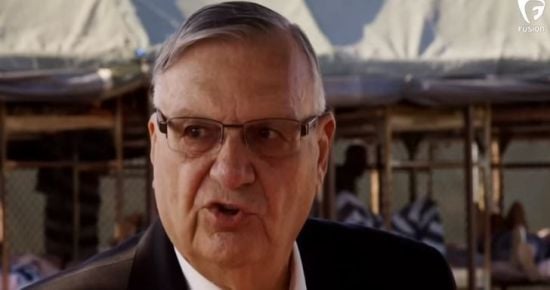 "You know, the usual suspects and the lawyers are coming into court and saying that the inmates are suffering terribly in your jails with the extreme weather in Arizona, you know," Carr said. "Yeah, that always brings a smile to my face when I read these stories."

Arpaio defended his methods. "I know, I was just in the tents two days ago, it was 136 degrees and I drank the Gatorade that I gave all the inmates, so you know what my answer is? Our men and women are fighting for our country, uh, live in tents, so shut your mouth," Arpaio said, reminding Carr that "all these other guys are convicted."
Great, so you should live out there too, right? And if you complain about it, you should just shut your mouth. I mean, if we're going to follow your "logic." What's amazing to me is that no court has shut those tent jails down on 8th Amendment grounds. That's absolutely appalling.
"I'll give you a scoop: I'm going to put American flags — I was going to do it on my birthday but I didn't want to get involved because of what happened in Florida — but on Fourth of July, every inmate is going to wear an American flag on their uniform."
Of course. How predictably moronic. Dear people of Maricopa County, isn't it time you voted this sadistic asshole out of office? What are you getting out of having him there other than satisfying your own desire to be equally sadistic but without the power to do so? The fact that you keep reelecting him says a whole lot about you and none of it is good.