Put your irony meters away for this one. Donald Trump is lashing out at former rivals who have refused to endorse him or support him as the Republican nominee, saying that they signed a pledge to support the eventual nominee and they should honor that pledge.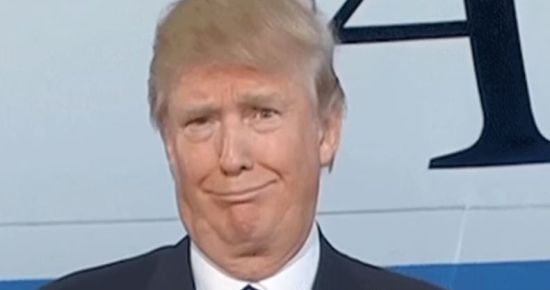 Trump said his primary opponents who now refuse to support his candidacy should not be allowed to run for office in the future, since they've gone back on their word.

"It was a rough campaign, and I wasn't nice, but they weren't nice either," the presumptive GOP nominee said at a rally in Bangor, Maine.

"Honestly, you sign a pledge, you're supposed to honor the pledge," he continued.

Trump called them "really sore losers" and said they only signed the pledge so he would do so as well.

"They broke their word, and in my opinion, they shouldn't be allowed to run for office again … because what they did is disgraceful."
Now that's just funny. How many times did Trump back down from that same pledge during the campaign? How many times did he say he would only honor it if he was treated well by the RNC? And does anyone really doubt that he would have run an independent campaign if he hadn't won the nomination? Pure hypocrisy. And typical "say anything" Trump.