The Los Angeles Times reports that Donald Trump secretly bankrolled a campaign to defame a Mohawk Native American tribe as violent, drug-dealing sociopaths in order to prevent them from being able to open a casino that might hurt his casinos in Atlantic City.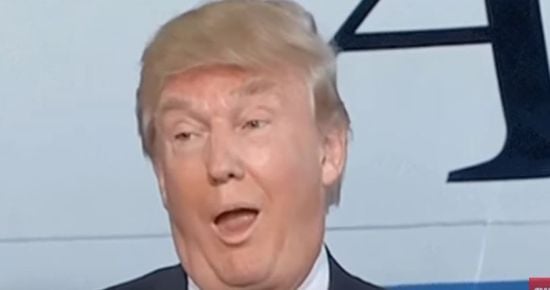 Soon after an American Indian tribe announced plans to open a casino at a Catskills horse track, ads started appearing in local newspapers and on radio, sounding an alarm about unbridled crime and corruption.

They came from the New York Institute for Law and Society, a new self-described grass-roots anti-gambling group targeting the St. Regis Mohawks. Its campaign in 2000, supposedly supported by 12,000 "pro-family" donors, warned of the evils an Indian casino would bring: "increased crime, broken families, bankruptcies and, in the case of the Mohawks, violence."

But there were no 12,000 donors. Virtually all the money for the campaign, more than $1 million, came from Donald Trump.

The institute was the brainchild of Trump's longtime lobbyist and consultant, Roger Stone, and Trump himself was hands-on — not just paying the bills, but signing off on ad copy or radio scripts depicting the tribe as violent criminals and drug dealers. When Stone hired private investigators to dig up dirt on the Mohawks, Trump secretly paid the bills.

"Roger – This could be good!" Trump scrawled across one ad that included a picture of hypodermic needles and lines of powder meant to depict cocaine, underneath the headline: "Drug Dealing at Monticello?," the name of the track. The ad ran in Catskills newspapers, credited to the institute…

Hundreds of pages of records from a New York agency's investigation into the ad campaign, obtained by the Los Angeles Times, reveal new details about Trump's covert fight against the tribe. It was unusual not only for how deeply involved he was, but for the sharp tone of the attacks and the elaborate attempt to conceal his role.

Stone told state investigators that he thought the public might pay attention to a "pro-family" group, but not to Trump, a loud and longtime critic of Native American gambling who was trying to stave off competition for his three casinos in Atlantic City.

"You could hide Trump's actions? From the public?" the investigators grilled Stone. "And you did that? Over and over again?"

"Yes," Stone answered each time, finally adding: "Nothing wrong with that, by the way."

The agency, the state's Temporary Commission on Lobbying, disagreed. Trump paid $250,000 for violating state law on lobbying and was forced to make a rare public apology.
What a shock, Donald Trump lying and defaming a race of people in order to enhance his profits. The odds of that are like 1:1.