And we have another illegal arrest for flag desecration, but this time it's of a Confederate flag. And the flag belonged to someone else. It happened in Harahan, Louisiana and the woman who did it was apparently rather impaired at the time.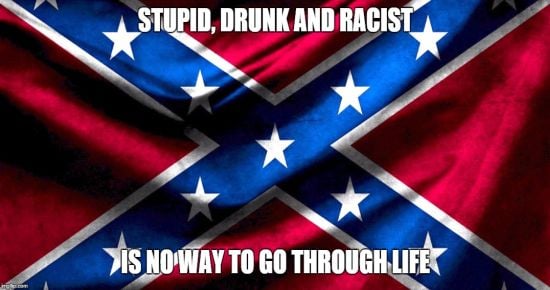 A Harahan woman has been arrested and accused of desecrating a flag after allegedly stealing and tearing a Confederate battle flag on the Fourth of July.

Harahan police said Madelyn Christina, 18, was caught on surveillance video stealing the rebel banner from a flag pole in front of a neighbor's residence on Colonial Club Drive.

Responding police interviewed Christina, who "freely admitted stealing the flag because it was racist," according to a department news release.

Police said that when they tried to retrieve the Stars and Bars from Christina's vehicle, they found marijuana, cocaine and alprazolam .

The flag was torn because Christina had ripped it off the pole, according to Harahan Police Chief Tim Walker.

Christina was booked on three counts of drug possession, possession of drug paraphernalia, theft under $100 and flag desecration, police said.
Now she can certainly be charged with the drug crimes (though I think such laws should not exist) and with theft, but not for desecrating a flag. For crying out loud, do the police in Harahan not know that such laws were declared unconstitutional almost three decades ago?
And I'm all for desecrating Confederate flags, but you still can't steal someone else's and do anything to it. That's theft.