Paula White, Donald Trump's "spiritual adviser," is, like him, a prosperity gospel con artist. Her version is religious, his is secular, but they operate the same way, by fleecing credulous, desperate people of their money in a highly efficient manner. Listen to her version of the scam: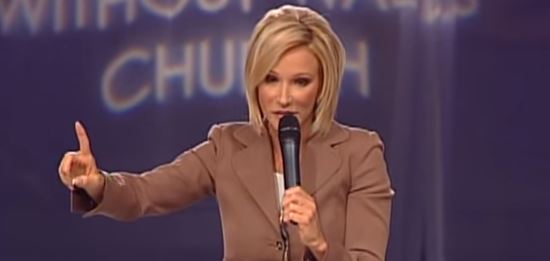 Worshippers who streamed into the doors of New Destiny Christian Center in Apopka, Florida on Easter Sunday got the surprise of their lives when their senior pastor offered them an opportunity to cheat death, the Christian Post reports. For a little over a thousand dollars, folks could purchase a "resurrection seed" she told them was set by God. Like the "resurrection stone" out of Harry Potter and the Deathly Hallows, this seed would presumably resurrect anyone who has died.

"I don't know what is dead. I don't know what the enemy sent a death to. I don't know what decision that caused death to come upon whatever the situation you're facing, but I do know that God has sent me to you to bring resurrection life," she told the crowd along with scripture on Lazarus. "To tell you that I believe that as we put our faith together before Easter Sunday on March 27, there's gonna be resurrection life in your life."

She told the audience that she doesn't generally get so specific about money, but it was God that gave her specific instructions on the dollar amount.

"There's someone that God is speaking to, to click on that donation button by minimizing the screen. And when you do to sow $1,144," she told the crowd. "It's not often I ask very specifically but God has instructed me and I want you to hear. This isn't for everyone but this is for someone. When you sow that $1,144 based on John 11:44 I believe for resurrection life. You say, Paula, I just don't have that, then sow $144. I don't have that. Sow $44 but stand on John Chapter 11:44."

Then like an infomercial proclaiming "but wait! There's more!" White promised those buying the "resurrection seed" that they would also get some special prayer cloths that might cause "miracles, signs and wonders."

"There have been times that I have taken prayer cloths that have been anointed as a point of contact. I put them in my loved one's sneakers, I put them under their bed. I put them on parts of my body that I believe God for healing," said White.
Reminds me of Peter Popoff's version of the scam. I was on his mailing list in the 90s. One time he sent a little scrap of white cloth and referenced a Bible verse about Paul's apron healing people, instructing me to write my prayer request on the cloth and send it back — with my generous donation, of course. This is fraud, plain and simple.