Once more into the fray, dear friends. Picking up where I left off in part two in analyzing and pointing out all the lies, distortions and absurdity in Donald Trump's acceptance speech at the RNC, we'll begin with this long-repeated lie: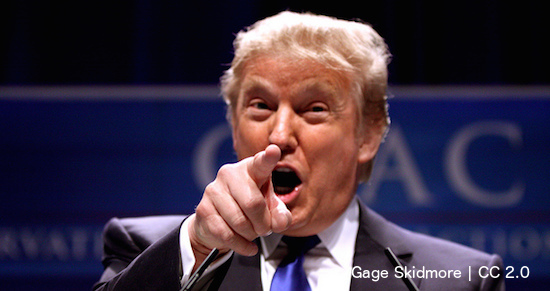 At this moment, I would like to thank the evangelical and religious community because I'll tell you what, the support they have given me, and I'm not sure I totally deserve it has been so amazing and has had such a big reason for me being here tonight. So true. They have so much to contribute to our politics, yet our laws prevent you from speaking your minds from your own pulpits. An amendment, pushed by Lyndon Johnson, many years ago, threatens religious institutions with a loss of their tax-exempt status if they openly advocate their political views. Their voice has been taken away.
This is a lie. The Johnson amendment does not prevent churches from "openly advocating their political views." It prevents all non-profits from endorsing candidates. They are completely free to discuss political issues and endorse specific legislation and churches do this literally every day. But even when churches deliberately violate the restriction on endorsing candidats, as hundreds of churches have done every year on Pulpit Sunday, urged on by Christian legal groups, not a single one of those churches has ever lost their tax-exempt status. Not one. This notion that churches are being censored is ridiculous. They are bound by the same rules that every other non-profit it. If they'd like to remove that restriction, like any other organization, all they have to do is give up their non-profit, tax-exempt status.
My Dad, Fred Trump, was the smartest and hardest working man I ever knew. I wonder sometimes what he'd say if he were here to see this and to see me tonight. It's because of him that I learned, from my youngest age, to respect the dignity of work and the dignity of working people. He was a guy most comfortable in the company of bricklayers and carpenters, and electricians and I have a lot of that in me also. I love those people.
You mean like how you loved those painters in Florida that you refused to pay the last $34,000 of the contract you signed with them? And the other hundreds and hundreds of contractors and subcontractors you've similarly refused to pay? You have a funny definition of love.