Do you know what Donald Trump thinks about whether the federal minimum wage should go up or not? Well, neither does he. He has been all over the map, taking every possible position — it needs to be eliminated, it needs to go down, it should be up to the states, it should be raised. His latest position: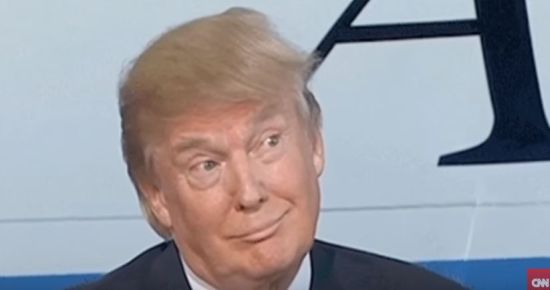 "The minimum wage has to go up. People are — at least $10, but it has to go up. But I think that states — federal — I think that states should really call the shot. As an example, I live in New York. It's very expensive in New York. You can't buy a hot dog for the money you're talking about. You go to other states and it's not expensive at all. Now what it does is puts New York at a disadvantage if the minimum wage is up, companies move out and things, bad things happen. At the same time, people have to be taken care of. But what I'm really going to do on the minimum wage — but it has to go up.. .. So I would like to raise it to at least $10."

A journalist then followed up, "You said we need to raise it to $10. … Are you talking about the federal minimum wage?" Trump confirmed, "Federal."
And all his previous ones:
In the fact-check, we noted that Trump told NBC's Chuck Todd that he preferred that states — not the federal government — act on their own to raise the minimum wage.

"I would like to see an increase of some magnitude," Trump told Todd. "But I'd rather leave it to the states. Let the states decide. Because don't forget, the states have to compete with each other."

When Todd asked specifically, "Should the federal government set a floor" for the minimum wage?" Trump replied, "No. I'd rather have the states go out and do what they have to do."…

In an interview with MSNBC in August 2015, Trump said, "Having a low minimum wage is not a bad thing for this country."

During the Republican debate in Milwaukee in November 2015, Trump said wages are "too high" and, when asked whether he would raise the minimum wage, said, "I would not do it."
The clearest counterpoint to Trump's Florida comments came from an interview on NBC's Meet the Press on May 8. We cited this exchange in our July 8 fact check, in which we gave a True rating to an assertion by Hillary Clinton that Trump "wants to get rid of the federal minimum wage."
He has no idea what he believes about this. Neither does anyone else. It would probably depend on whether someone said something he didn't like on Twitter that day.