The new campaign manager for Donald Trump, Kellyanne Conway, is a longtime Republican pollster with an equally long history of saying rather asinine and bigoted things. Sounds like she'll fit right in. Media Matters runs down some of her greatest hits. First, some anti-gay bigotry: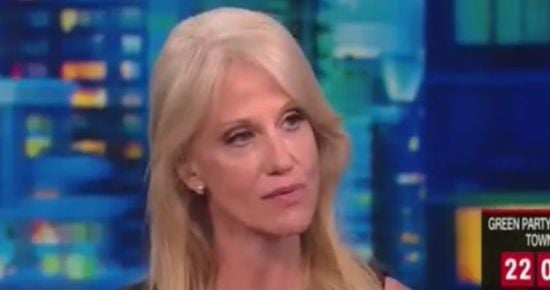 Conway: Homosexuality Is A "Corrupting" Influence, People "Don't Want Their Kids Looking At A Cartoon With A Bunch Of Lesbian Mothers." After a 2005 episode of PBS' Postcards from Buster featured a lesbian couple, Kellyanne Conway expressed outrage, asserting that it's not an issue of "right versus left, but right versus wrong" and adding that people "don't want their kids looking at a cartoon with a bunch of lesbian mothers." Conway then said "regular Americans are standing up and saying … 'I try to protect my kids from outside, external influences corrupting their minds and their bodies.'"
And her declaration that her then-client Todd Akin had showed "principle" after making the idiotic claim that women's bodies shut down pregnancy if it's a "legitimate rape."
TONY PERKINS: The distance between them is narrowing, Todd Akin has bounced back up, and the evidence of that is pretty clear because now you see other Republicans who abandoned him are now taking a second look at the race and realizing just how important this seat is.

KELLYANNE CONWAY: They are and they're following your lead Tony. You saw former speaker Gingrich there on Todd's behalf at a fundraiser on Monday, saying it's just "conventional idiocy" that's preventing people from backing Todd, and he predicts that come mid-October everyone will be following yours and his lead back to Missouri, with their money. Of course, former senator and presidential candidate Rick Santorum and Senator Jim DeMint came out just yesterday to support Todd. I believe that the establishment will have to look at this race and they will have to hold their nose because the first days—and I've expressed this to Todd as my client for a while now, I've expressed it to him directly—the first day or two where it was like the Waco with David Koresh situation where they're trying to smoke him out with the SWAT teams and the helicopters and the bad Nancy Sinatra records. Then here comes day two and you realize the guy's not coming out of the bunker. Listen, Todd has shown his principle to the voters.
And finally, this comment:
Already The New York Times and other publications have run articles about the state of the Clintons' marriage. Republican pollster Kellyanne Conway offered a possible preview of 2008 attack rhetoric on MSNBC in April 2005: "The fact is that Hillary Clinton could not stand up to a cheating husband, so how in the world would she stand up to North Korea and some of our other enemies around the globe?"
See, I think if you say something that inane you've forfeited your right to be taken seriously on pretty much anything ever again.