Christian fascist Kevin Swanson puts on the full armor of Gordon Klingenschmitt and decides to "discern" who is and is not, from today and ancient history, was literally under the control of Satan. The conclusion: Pretty much everyone not him.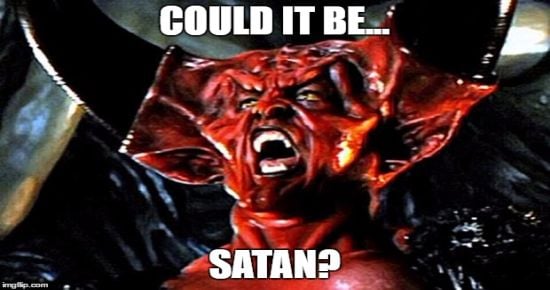 "Now, Charles Darwin, Lady Gaga and Steven Spielberg are under the control of the Evil One," he explained. "1 John 5:19 says the whole world is under the sway of the Evil One, under the sway of the devil, the devil has absolute control over them. Now, again, these are the presuppositions that are not taken on by those who want to dally with the world's ideas. They don't see that Aristotle is under the sway of the Evil One, under the absolute control of this very powerful, malignant force called the devil, and they don't see that Steven Spielberg and Lady Gaga and Charles Darwin are under the absolute sway, the control, the force and the power of the devil himself. So therefore they absorb any of the ideas that may come their way through these means."

He warned that parents and students must understand this before they "read these great novels written by men who were virtually possessed by the devil, some perhaps possessed by Satan himself," including works by Twain, who "at points might have been possessed by Satan himself," and Hawthorne, who "must have been affected by some demon."

There was also, he said, "a lot of demonic involvement in the lives of Mark Twain, Karl Marx, Friedrich Nietzsche, Nathaniel Hawthorne and others."
Man, that Satan is a busy guy, possessing all those people and, undoubtedly, many more. You almost have to admire his stamina.