It's so amusing to me hearing Donald Trump talk about religion. It's a subject he's so obviously uncomfortable with that he just comes off as awkward. That so many Christians are fooled by it tells you how easily they're conned. From a recent interview with Steve Strang of Charisma magazine: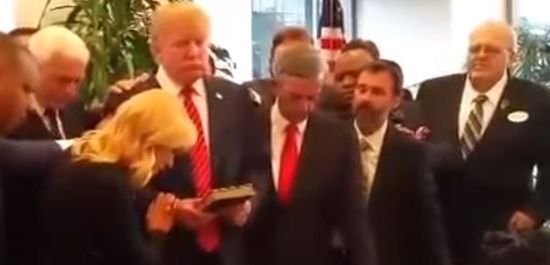 "Before you spoke [at the Orlando meeting], they had a speaker talking about Judeo-Christian values in the founding of the nation and so forth," Strang said. "In our secular society, a lot of people discount that. Do you believe that America was founded on Judeo-Christian principles?"

"Yeah, I think it was," Trump responded. "I think, to a large extent, when I look at football coaches being fired because they held a prayer on the field, like yesterday, I think it's absolutely terrible, I think it's a terrible thing. I see so many things happening that are so different from what our country used to be. So religion's a very important part of me and it's also, I think it's a very important part of our country."

When Strang asked Trump to give conservative pastors advice on how to advocate for his candidacy, Trump gave a typically vague response.

"Well, I'm going to get the job done," he said, "I'm going to do a great job for religion and for the evangelicals. I'm going to do a great job. And that's why we got a standing ovation from pastors, who don't give much standing ovations because they've heard a lot of people speak, so that was a great honor. But I will do a great job, I'll get the job done and I'll get it done properly and that will be a great thing for the evangelicals."
Oh, how I would love to interview Trump about "Judeo-Christian values" and America's founding. Imagine how he would babble incoherently if you asked him to name what those values are and point to the verses in the Bible that support them. Or quote the Bible on slavery and ask him if that is one of those "Judeo-Christian values" he's referring to. Much hilarity would ensue.