Huge numbers of people in Louisiana have had their homes destroyed by the worst non-hurricane flooding we've seen in a long time. What's Phyllis Schlafly concerned about, you ask? Making sure people get the aid they need to recover? Nope. She's angry that people who don't speak English well might get help too.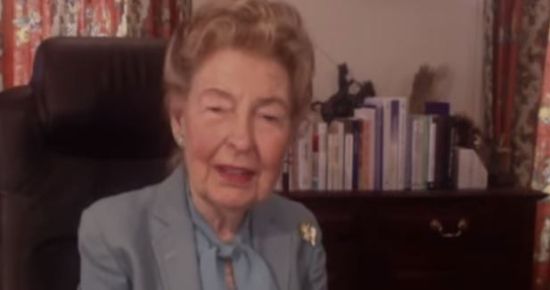 With only five months left in the White House, Obama is still hard at work "fundamentally transforming" our country into something much different from the nation we all grew up in. Here are recent examples of how he is determined to transform America by undermining our common culture and language…

On August 16, five federal agencies issued an incredible 16-page, single-spaced "Guidance" warning relief agencies not to discriminate in the use of disaster funds. Agencies receiving funds must "post a statement of nondiscrimination" on all public notices and "should also identify a point of contact for the public to submit complaints of discrimination."

The Guidance refers to "unlawful discrimination on the basis of race, color, or national origin" which is prohibited by the 1964 Civil Rights Act, but it doesn't stop there. It also tries to ban discrimination on account of "limited English proficiency," which Congress has never prohibited.

The sneaky part is the way the federal Guidance includes the phrase "limited English proficiency," as if the language you speak is part of your "national origin." In fact, people from every country can and do learn English, and there is no good reason for our government to conduct official business in any other language…

The Guidance goes on at great length to require agencies to serve "LEP persons" and "LEP populations" in their own languages. Agencies are told to "provide translated materials," "translation services," and even "monolingual communication in the LEP person's language."

The idea that federal grant recipients must provide services to "LEP persons" in their native languages other than English originated exactly 16 years ago when Bill Clinton issued Executive Order 13166 in the waning days of his administration…

Don't assume that the Obama administration is merely responding to a genuine need for services by recent immigrants who have not yet learned English. In the name of multiculturalism, the administration is actively discouraging the transition to English by immigrants and their children, and promoting other languages instead.
Yes of course, it's all a plot. It's not just good planning to make an effort to get the word out to those who might not understand English very well. Just let those people die, that's Schlafly's message. And that's just what Jesus would do, isn't it?