This week Donald Trump announced that his big plan to fight ISIS is to ask the generals at the Pentagon to give him a plan to fight ISIS. These are the same generals he claims to know more than when it comes to ISIS. He tried during the Commander in Chief program to extricate himself for that.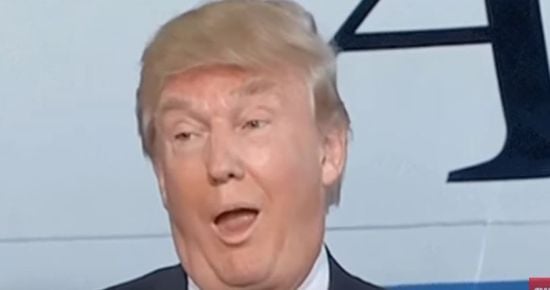 LAUER: Back in August, when you admitted that you regret some of the things you said, you also said this. "I can promise you this: I will always tell you the truth."

TRUMP: It's true.

LAUER: So let me read some of the things you've said. "I know more about ISIS than the generals do. Believe me." Was that the truth?

TRUMP: Well, the generals under Barack Obama and Hillary Clinton have not been successful. ISIS…

LAUER: Do you know more about ISIS than they do?

TRUMP: I think under the leadership of Barack Obama and Hillary Clinton, the generals have been reduced to rubble. They have been reduced to a point where it's embarrassing for our country. You have a force of 30,000 or so people. Nobody really knows. But probably 30,000 people. And I can just see the great — as an example- General George Patton spinning in his grave as ISIS we can't beat. We had the greatest…

(CROSSTALK)

LAUER: Yeah, you've said if we had MacArthur today or if we had Patton today, we would not have ISIS, that the rise of these military commanders that we have today, they come up the chain of command, and by the time they get to the top, they're too politically correct. And we know that's not a compliment coming from you. Have you lost faith in the military commanders?

TRUMP: I have great faith in the military. I have great faith in certain of the commanders, certainly. But I have no faith in Hillary Clinton or the leadership. You look at what's happened. And, you know, when she comes in and starts saying, oh, I would have done this, I would have — she's been there for 30 years. I mean, we need change, Matt. We have to have it, and we have to have it fast.
He later said that he would replace the generals there now with his own. What does he think he's going to do, call West Point and order a box of new generals? And he has no knowledge that would make him qualified to decide which generals to trust and which not to. And for crying out loud, he doesn't know more than they do about ISIS. He doesn't know more than a modestly engaged American about them.