That "I'm not longer a birther" press conference the other day was nothing but a promotional event for Donald Trump's new hotel in Washington, DC (Jake Tapper compared it to being Rickrolled). But it turns out that hotel is, in Trumpian rhetoric, un-American.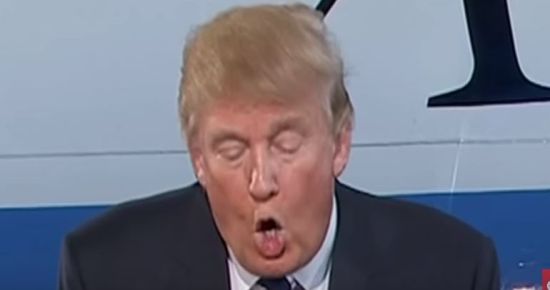 He campaigns on an "America First" theme — yet about the only American-made thing I could find in my hotel room was the small package of milk-chocolate Trump gold bullion ($25)…

In my room, I found a Trump logo bathmat and towels from India, bone china from Japan, Italian cutlery and tiles, two telephones from Malaysia, a Swiss refrigerator, German coffee cups, Trump soaps and lotions from Canada and, from China, all four lamps, the coffee machine, the bathroom scale, the valet stand and the shower cap. The hotel's managing director is from France. Most hotel workers I met during my stay had Caribbean or African accents.
So after all that endless pontificating about how China and other countries are "killing us" and everything here is made somewhere else, when he has the opportunity to support American businesses by buying their products, he chooses to let them go on "killing us." Like he does with his clothing line. Hypocrisy, thy name is Trump. Oh, and he also hands out Qurans:
Examining my posh surroundings — Italian bed linens, French table linens, Chinese duvet, Korean TV and, yes, Mexican tequila ($14 for a shot of Patrón Silver) in the minibar, er, "private bar," I came across the Gideon Bible in the nightstand with a note on "TRUMP HOTELS ™" stationery:

"If you would like to continue your spiritual journey, we also offer the followings [sic]: Talmud. Quran. Gita. Avesta. Tripitaka (Pali Canon). Shri Guru Granth Sahib. Book of Mormon. Kindly contact Housekeeping should you wish to have one delivered to your room."

Sure enough, minutes after my call to housekeeping, a pleasant woman arrived with a copy of "The Glorious Qur'an" in Arabic and English, along with a brown prayer rug and a compass pointing in the "direction of al Kaaba" in Mecca.
OMG! Donald Trump is a Muslim terrorist!