Omarosa Manigault learned much from Donald Trump, mostly about being an effective con artists. That's why after her star turn as an embarrassingly buffoonish contestant on his show, she immediately became a prosperity gospel preacher. Here's what she thinks about our democratic country: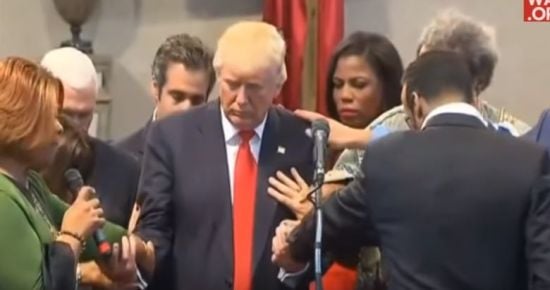 Donald Trump's director of African-American outreach has an ominous warning for all who dared to criticize the Republican presidential nominee: Soon, they will have to bow down to "the most powerful man in the universe."…

"Every critic, every detractor, will have to bow down to President Trump. It's everyone who's ever doubted Donald, who ever disagreed, who ever challenged him. It is the ultimate revenge to become the most powerful man in the universe."
You must be thinking of North Korea. In this country, we do not bow down and worship our political leaders. They actually work for us. And how creepy is it that a preacher would use virtually the same words about Trump that the Bible uses about Jesus? It's not surprising, of course. Her real god is power and money, just like Trump's.