So as I'm sure you know by now, the Washington Post published a shocking — not in the sense of surprising — video of Donald Trump in 2005 talking about trying to have sex with a TV hostess when she was married and he had just married wife #3. It contains the blatant admission of sexual harassment and assault. The video: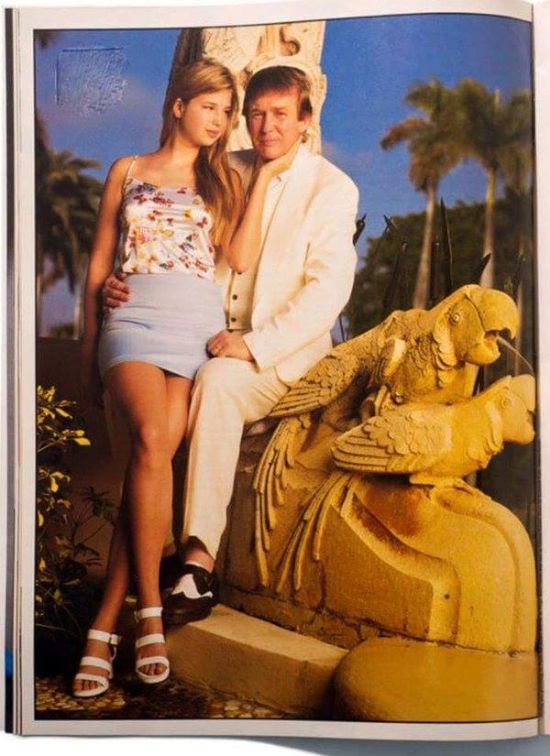 What he said:
"I moved on her, and I failed. I'll admit it," Trump is heard saying. It was unclear when the events he was describing took place. The tape was recorded several months after he married his third wife, Melania.

"Whoa," another voice said.

"I did try and f— her. She was married," Trump says.

Trump continues: "And I moved on her very heavily. In fact, I took her out furniture shopping. She wanted to get some furniture. I said, 'I'll show you where they have some nice furniture.'"

"I moved on her like a bitch, but I couldn't get there. And she was married," Trump says. "Then all of a sudden I see her, she's now got the big phony tits and everything. She's totally changed her look."

At that point in the audio, Trump and Bush appear to notice Arianne Zucker, the actress who is waiting to escort them into the soap-opera set.

"Your girl's hot as s—, in the purple," says Bush, who's now a co-host of NBC's "Today" show.

"Whoa!" Trump says. "Whoa!"

"I've got to use some Tic Tacs, just in case I start kissing her," Trump says. "You know I'm automatically attracted to beautiful — I just start kissing them. It's like a magnet. Just kiss. I don't even wait."

"And when you're a star, they let you do it," Trump says. "You can do anything."

"Whatever you want," says another voice, apparently Bush's.

"Grab them by the p—y," Trump says. "You can do anything."
Grab them by their pussy without their permission? That's called sexual assault. So when this came out, Trump released a classic not-pology:
"This was locker-room banter, a private conversation that took place many years ago. Bill Clinton has said far worse to me on the golf course — not even close," Trump said in a statement. "I apologize if anyone was offended."
That is not an apology. It's an attempt to distract from the issue. A few hours later, they clearly figured out that wasn't going to stem the tide of criticism, so they recorded a video with what they characterized as a "real apology." It was not. It started with an attempt to minimize it by talking about how long ago it was and ended with him trying to shift the attention to Hillary Clinton.
"I've never said I'm a perfect person, nor pretended to be someone that I'm not. I've said and done things I regret, and the words released today on this more than a decade-old video are one of them. Anyone who knows me knows these words don't reflect who I am. I said it, I was wrong, and I apologize," Trump said in a brief video statement released late Friday night as a number of prominent Republicans distanced themselves yet again from their presidential nominee.
There is no purpose at all in mentioning how long ago it took place if you're genuinely sorry. It serves only to minimize the situation. And the line about anyone who knows you knows those words don't reflect who he is? I'm not sure there has ever been a more unbelievable statement than that. And I don't mean unbelievable as a word of emphasis, I mean it literally cannot be believed. No one whose brain is not completely rotted through by political tribalism could possible respond with anything but laughter. We have dozens, perhaps hundreds, of reports from other people who have worked with and for him testifying to this being precisely who he is.
Just look at an AP report from earlier this week that cited more than 20 people, some using their names and others requesting anonymity against the extremely litigious Trump, with outlandish stories of him humiliating women on the set.
"We were in the boardroom one time figuring out who to blame for the task, and he just stopped in the middle and pointed to someone and said, 'You'd f… her, wouldn't you? I'd f… her. C'mon, wouldn't you?'"

The person continued: "Everyone is trying to make him stop talking, and the woman is shrinking in her seat."
That's just plain old sexual humiliation for his own amusement. Or listen to all his old interviews on the Howard Stern show, which is perfectly in line with this latest tape. I'm always amused when people get caught doing something horrible and they say "that's not the real me." Yes it is. The real you is who you are when you think nobody's listening or watching. The fake you is the one who says "that's not who I am." Well let's see: Someone said those things. That someone was you. How could it possibly not be who you are? Yes, this fucking IS you, Trump. It's who you've always been and always will be. Anyone who thinks otherwise is living in a fantasy world.