The New York Times reports that the American Bar Association prepared a report calling Donald Trump a libel bully for his decades-long use of defamation suits to stifle criticism of him, but they chickened out on releasing it because — drumroll, please — he might sue them.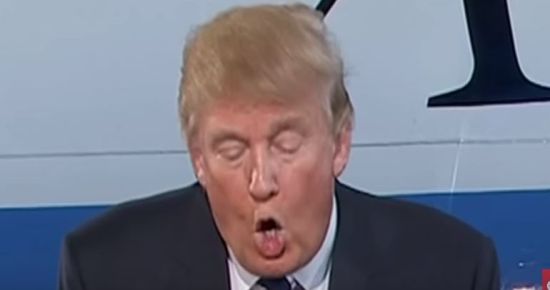 Alarmed by Donald J. Trump's record of filing lawsuits to punish and silence his critics, a committee of media lawyers at the American Bar Association commissioned a report on Mr. Trump's litigation history. The report concluded that Mr. Trump was a "libel bully" who had filed many meritless suits attacking his opponents and had never won in court.

But the bar association refused to publish the report, citing "the risk of the A.B.A. being sued by Mr. Trump."

David J. Bodney, a former chairman of the media-law committee, said he was baffled by the bar association's interference in the committee's journal.

"It is more than a little ironic," he said, "that a publication dedicated to the exploration of First Amendment issues is subjected to censorship when it seeks to publish an article about threats to free speech."

In internal communications, the bar association's leadership, including its general counsel's office and public relations staff, did not appear to dispute the report's conclusions.

But James Dimos, the association's deputy executive director, objected to the term "libel bully" and other sharp language in the report, saying in an Oct. 19 email that the changes were needed to address "the legitimately held views of A.B.A. staff who are charged with managing the reputational and financial risk to the association."

"While we do not believe that such a lawsuit has merit, it is certainly reasonable to attempt to reduce such a likelihood by removing inflammatory language that is unnecessary to further the article's thesis," Mr. Dimos wrote. "Honestly, it is the same advice members of the forum would provide to their own clients."
If anyone happens to come across the ABA's missing spine, please return it to 2100 Invertebrate Rd. in Ediacara, Canada. Thankfully, the Media Law Research Center does have a spine and they've released a similar report, and they mince not a single word:
Donald J. Trump is a libel bully. Like most bullies, he's also a loser, to borrow from Trump's vocabulary.

Trump and his companies have been involved in a mind-boggling 4,000 lawsuits over the last 30 years and sent countless threatening cease-and-desist letters to journalists and critics.

But the GOP presidential nominee and his companies have never won a single speech-related case filed in a public court…

Trump's lawsuits are worthy of a comedy routine, as when Trump sued HBO comedian Bill Maher for suckering Trump into sending his birth certificate to prove he was not the "spawn" of an orangutan, and Trump hit back with a $5-million breach-of-contract lawsuit, only to withdraw it after the Hollywood Reporter ridiculed it. Can anyone say Hustler v. Falwell?

Orangutans and joking aside, this examination of Trump's libel losses also provides a powerful illustration of why more states need to enact anti-SLAPP laws to discourage libel bullies like Trump from filing frivolous lawsuits to chill speech about matters of public concern and run up legal tabs for journalists and critics.
Yep, anti-SLAPP laws were written explicitly for people like Trump.