The more you dig into Steve Bannon's past, the more obvious it is that the man is a serious racist. Now it comes out that he has repeatedly lavished praised upon Jason Richwine, who thinks whites are smarter than non-whites, a position that was so racist that he got forced out of the Heritage Foundation.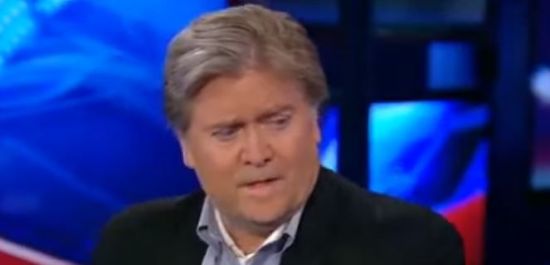 As The Daily Beast reported in August, when Bannon left Breitbart to take a top spot on Trump's campaign:

Bannon didn't just make Breitbart a safe space for white supremacists; he's also welcomed a scholar blacklisted from the mainstream conservative movement for arguing there's a connection between race and IQ. Breitbart frequently highlights the work of Jason Richwine, who resigned from the conservative Heritage Foundation when news broke that his Harvard dissertation argued in part that Hispanics have lower IQs than non-Hispanic whites.

Bannon loves Richwine. On Jan. 6 of this year, when Richwine was a guest on [Bannon's Sirius XM] radio show, Bannon called him "one of the smartest brains out there in demographics, demography, this whole issue of immigration, what it means to this country."

There's more to that January 6 interview. After praising Richwine for being "one of the smartest brains" on demographic issues, Bannon said that he believed that the presidential election was "going to become a referendum on this whole issue of what is the sovereignty of our country, what is legal immigration, what is illegal immigration, what are we prepared to do with people here illegally, what about this whole situation in Europe … the whole thing in Europe is all about immigration, it's a global issue today, this kind of global Camp of the Saints."

"The Camp of The Saints" is a racist dystopian anti-immigrant novel beloved of white supremacists…

Bannon concluded the interview by calling Richwine "an American hero" and a "true patriot," noting that "we've got this entire site of Breitbart and this news show is to make sure that voices like yours are heard."
Too racist for the Heritage Foundation, loved by Steve Bannon. Speaks volumes.