The first student After School Satan Club in the country, at a school in Portland, had its first official meeting this week and it predictably drew lots of protesters outside the school clutching their pearls and freaking out over it.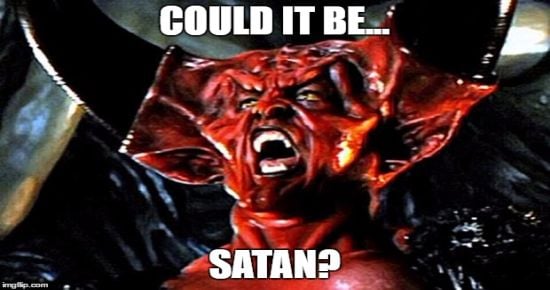 The first official meeting of the After School Satan Club in the United States took place Wednesday at Sacramento Elementary School in Portland, drawing national members of the Satanic Temple and Catholic protesters from a group based out of Pennsylvania.

"The club is here to contrast the presence of the evangelical Good News Clubs, which are here specifically to proselytize to children," said Lucien Greaves, the Satanic Temple's national co-founder, who was on hand for the first official meeting of the club, an open house for parents, students and staff. Members of the press were not allowed to attend.
To their credit, the Good News Club organization, whose student clubs this is a response to, says that this new group has the same legal right to form as they do. Good for them. But a group of right-wing Catholics from another state are up in arms:
Four members of a Catholic group called "America Needs Fatima," part of the American Society for the Defense of Tradition, Family and Property, traveled to Portland to protest the club. They were joined by members of the community and a priest who happened to be in the area from Ohio.

Peter Miller, a member of America Needs Fatima and the American Society for the Defense of Tradition, Family and Property, said they are an "anti blasphemy" group. He explained Fatima is "an apparition of Our Lady."

The group has previously protested things like "the Jerry Springer play" and "The Testament of Mary," another play, according to Miller.

"Satanism, they're not a religion," said Jack Burnham, who was protesting with America Needs Fatima.

"People are demurring that they're some kind of religion," he added. "They're not."

When asked what defines a religion, Burnham said, "Worship of God, the one true God. That's my definition."
So not only is his religion the only true religion, it's the only religion that exists. Not exactly a Rhodes scholar, this guy. And none of this is even remotely relevant. The right to form student clubs like this is not limited to religious groups at all.
A member of the group, Charles Sulzen, said the goal of the protest is "stopping the worship of Satan in public areas."

"We're here to defend the rights of God against his archenemy," Burnham added.
Your omnipotent God needs you to defend his rights? Sounds like a pretty weak god, doesn't it?