The son of Christian fascist Roy Moore, Caleb, has been arrested for the 8th time in recent years. His tally includes three arrests for DUIs and three for drug offenses, which explains why he works for his father's Foundation for Moral Law in "ministry."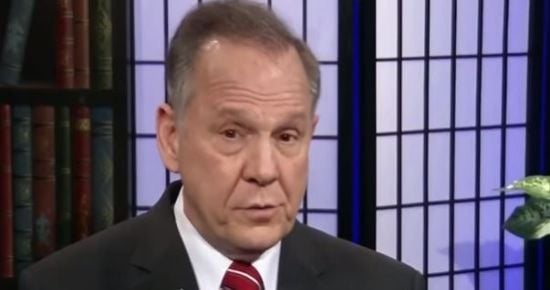 The son of suspended Alabama Chief Justice Roy Moore was arrested this weekend in Etowah County for two miscellaneous charges.

Caleb Elisha Moore, 26, of Gallant, was arrested Friday, according to Etowah County Sheriff's spokeswoman Natalie Barton.

Moore was arrested for hunting without permission and hunting over bait. Both are misdemeanors.
Hey, at least this one isn't drug or alcohol related and isn't a felony. In its 2012 IRS filings, the Foundation for Moral Law listed him as its executive director, but Caleb himself says that's a lie:
Caleb Moore's job at the Foundation for Moral Law has also increased scrutiny on him. He was listed as executive director and secretary of the moral lobbying group on its IRS Form 990 tax filing in 2012. Moore, in the interview with AL.com, denied he has ever held that position.

"I work in the ministry," Caleb Moore said. "I'm part of the foundation. Matthew Kidd is the executive director. My mother (Kayla Moore) is the president. I do work there. I basically draft letters."
That's the kind of guy you want working in the ministry, amirite?