TV evangelist con artist James Robison is still on his "Trump is a vessel of God" crusade, which gets battier by the moment. In his latest article about it, he says God wants Trump to be the "father to a fatherless nation," meaning the United States.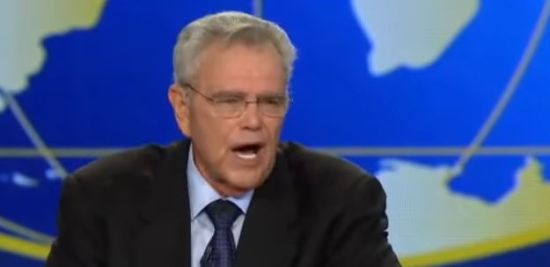 When I walked in Mr. Trump's office in April 2016 at his invitation, I knew I had been sent by God. I went with confidence in the Lord, trusting that He would speak through me. I was impressed to ask Mr. Trump's second son, Eric, to join us for the first few minutes. I felt he would want to say some things about his father, and I would say some things about the need for a fatherless nation to have a father. The interaction was gratifying — more than I could have hoped.

Eric said, "I have a great father." I said, "Let's join in prayer and hope that he will learn what it is to be a wise father figure to a fatherless nation." Eric agreed, and I don't think we've ever stopped agreeing in our hearts and in prayer that President-elect Trump can actually become that kind of example.
A fatherless nation? A nation is not an individual. It has no father. And if it did, it sure as hell wouldn't be Donald Trump. If it were, he would cheat on it regularly with younger, hotter countries and grab them by their pussies while stashing the kids in private schools so he doesn't have to deal with them. I have a father, thank you very much.
Not many thought what is happening with Mr. Trump would have been likely, perhaps even possible, and certainly not probable. As I look in from the outside, and also from the inside as a result of the journey I've had in interaction and prayer with Mr. Trump, I sense that he is being captured by the heart of our Father.

I think many of his decisions may even surprise him — not that he lacks a brilliant mind, tremendous insight and ability to make a deal. This is beyond that. In my opinion, Mr. Trump is receiving wisdom only God can provide. The Lord freely offers it to anyone willing to hear, seek and heed. I think Mr. Trump is hearing, and I believe he is diligently seeking to heed what every American must know: America cannot be great without God.
So God is actually controlling the mind of Donald Trump? Then I assume we can expect executive orders to invade Canada and kill all the men, women and male children, but to leave the young virgin females alive to be distributed among the soldiers? That's the sort of thing God allegedly enjoys, if the Bible is to be believed (and it isn't).
I believe God is seeking to impart to President-elect Trump, Vice President-elect Pence and every prospective cabinet member the very heart of the ultimate Father and the Great Shepherd. Our Lord made it clear that when we allow Him to become our Shepherd, we need not want. He is our source. However needy we may be, He is the solution and He will often use compassion-filled people to meet our needs. But we will never, never become dependent on a source other than God our Father and Shepherd.
Now that is some grade-A religio-bullshit right there, the kind of thing that the people who send Robison money eat up with a spoon.