According to Alex Jones, all the world's governments are really controlled by the Illuminati, which means those reptilian aliens — except Russia, apparently. He is reveling in the fact that Russian officials close to Putin are praising him to high heaven.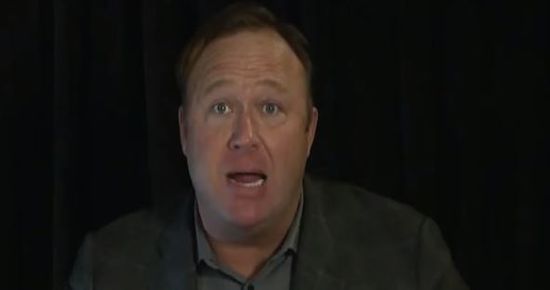 Radio host Alex Jones recently appeared on a Russian television program where he was feted by pro-Kremlin commentators as a "hero" who exposed "the war crimes of Hillary Clinton" and "told the truth while everyone else lied" during the 2016 presidential campaign. The station's editorial director, who has been nicknamed "Putin's Rasputin," also described Donald Trump's electoral win to Jones as "when you and him and all of us won."

Jones, a prominent conspiracy theorist and one of President-elect Donald Trump's key media allies, appeared on a late December broadcast of Tsargrad TV's Our Point of View. In a segment on his show about the appearance, Jones bragged about the alleged influence of the Tsargrad TV program, claiming it was "Vladimir Putin's favorite TV show" and "it's private media — a couple of these guys are Putin advisers, I mean, top Putin advisers."…

Alexander Dugin is the editorial director for Tsargrad TV. He has been widely referred to as "Putin's Rasputin" because of his ties and influence on the Russian president and his political apparatus…

Jones celebrated Tsargrad TV's coverage during his December 28 show and played clips from the program, which were translated by an Infowars staffer. Jones' appearance on the network began with a pre-taped package hailing the "legendary" Jones as a "journalist who had the true courage to show the truth of what is really going on in the United States" by "exposing the war crimes of Hillary Clinton." The show praised Jones for discussing "the WikiLeaks dumps" and concluded that "Infowars.com was practically the only resource where the elections were covered thoroughly and objectively."

Dugin told Jones during the program that he's a "hero" who "changed our view of who a real American is." He began by stating that they "have been following" Jones "for many years" and he has "marveled at" the American broadcaster. Dugin said that Jones is "a hero of this campaign" because he "told the truth while everyone else lied." According to Dugin, "When Donald Trump won, whom you supported and whom we were all also in solidarity with, when you and him and all of us won, I said this: Anti-Americanism is over."

He added that Jones is "a true American man" and "from the bottom of our hearts we thank you for being the genuine face of real America."
So Jones screams and screams about oppression in the United States, but revels in the praise of Putin and his advisers. We are living in fucking bizarro world.