In the tiny town of Lexington, Virginia they have always held a parade to honor Robert E. Lee and Stonewall Jackson, both confederate heroes, just before Martin Luther King Day. This year, those wanting an MLK Day parade got the only permit to hold a parade. Much stupidity ensues.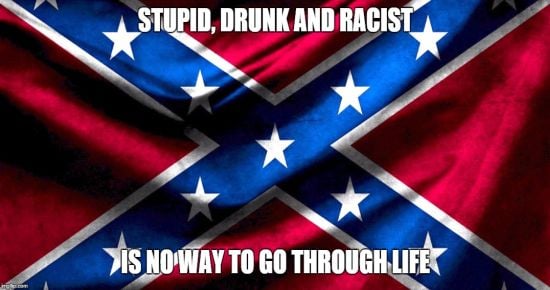 For years, the weekend leading up to the observance of the Martin Luther King Jr. holiday has been overshadowed here by a celebration and a parade honoring two Confederate generals whose birthdays fall within days of the civil rights icon's: Robert E. Lee and Stonewall Jackson.

But this year, a group seeking to march in honor of King obtained the sole permit available on Saturday, the day that a Lee-Jackson parade is typically held…

Lee and Jackson are buried here in Lexington, a small city of 7,000 tucked among the foothills of the Appalachian Mountains, near the border of West Virginia. For more than a decade, Confederacy enthusiasts have gathered on this January weekend to celebrate the generals' birthdays and "flag" the city — a term they coined to describe standing along thoroughfares, some dressed in Civil War costume, waving Confederate battle flags…

In working to establish a King parade, they encountered resistance from both battle flag supporters, who called them antagonistic for their choice of date, and flag opponents, including some lifelong African-American residents, who said the parade threatened to upset the delicate, unspoken agreements that had allowed black and white residents to coexist in relative peace despite the town's history…

Tensions had erupted before. In 2011, Mimi Elrod, the mayor then, was driven in a police car to a City Council meeting to avoid hundreds of battle flag advocates protesting outside, according to local reports. Ms. Elrod had spearheaded an ordinance that would prevent them from obtaining a permit to hang their flag on municipal light posts, as they had quietly done the previous year.

After the ordinance passed, Ms. Elrod became a target. She received hundreds of letters, emails and phone calls, some of them threatening, she said. For years afterward, battle flag advocates gathered outside her house on Lee-Jackson Saturday and sang "Dixie."
This is one of those situations that makes you think…wait, this is 2017 right? Not 1917? How the hell is this still going on?