At an astonishingly cruel and irrational press conference the other day, White House Budget Director Mick Mulvaney argued that getting rid of Meals on Wheels was the compassionate thing to do because taxpayers had to pay for a program that was "just not showing any results."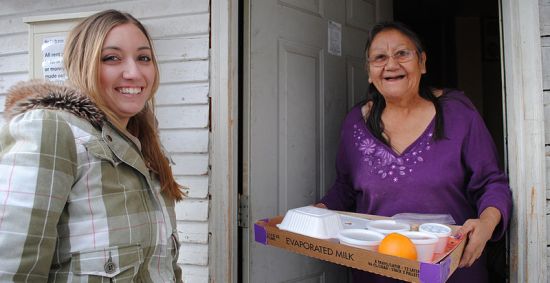 Okay, let's quickly point out one thing: Last year, Meals on Wheels served more than 200 million meals to more than two million homebound senior citizens. The whole point of the program? To feed homebound senior citizens. I bet the more than two million people who were able to eat as a result of the program rather than starve think that it's showing results. But there's actually a good deal of evidence that the program achieved a number of important goals.
Meals on Wheels is a nonprofit group that receives funding from the federal government, state and local governments and private donors. "We serve more than 2.4 million seniors from 60 to 100+ years old each year," the organization writes. "They are primarily older than 60 and because of physical limitations or financial reasons, have difficulty shopping for or preparing meals for themselves."

If that doesn't clear the bar for "results," as Mulvaney put it, there's also been a fair amount of peer-reviewed research on the efficacy of the program.

A 2013 review of studies, for instance, found that home-delivered meal programs for seniors "significantly improve diet quality, increase nutrient intakes, and reduce food insecurity and nutritional risk among participants. Other beneficial outcomes include increased socialization opportunities, improvement in dietary adherence, and higher quality of life."

Not only that, the programs offer good bang-for-your-buck: "These programs are also aligned with the federal cost-containment policy to rebalance long-term care away from nursing homes to home- and community-based services by helping older adults maintain independence and remain in their homes and communities as their health and functioning decline."

In other words, the programs help seniors stay at home and out of costly nursing facilities. If you're interested in keeping a lid on health-care costs, the importance of this finding can't be overstated.
But it's not working! What are you going to believe, actual evidence or the vicious assertions of an anti-humanist administration? Now, bombing the hell out of things? They clearly think that's working really well because they want about a 10% increase in funding for that. All the money to kill, no money to save and improve lives. This from a president who lives surrounded by gold everything while casually destroying lives like they were just numbers on a page.