Donald Trump's refusal to take the steps necessary to avoid obvious conflicts of interest is a perfect recipe for corruption. After putting his sons in charge of his companies, they swore that they wouldn't talk about business. That lasted all of a few weeks.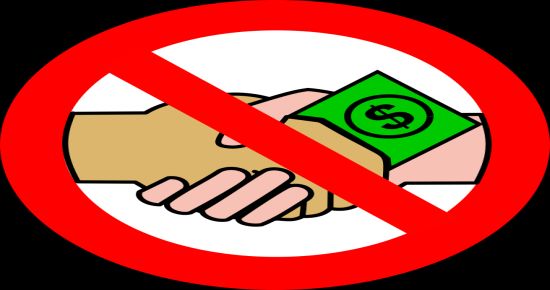 "There is kind of a clear separation of church and state that we maintain, and I am deadly serious about that exercise," he says, echoing previous statements from his father. "I do not talk about the government with him, and he does not talk about the business with us. That's kind of a steadfast pact we made, and it's something that we honor."

But less than two minutes later, he concedes that he will continue to update his father on the business while he is in the presidency. "Yeah, on the bottom line, profitability reports and stuff like that, but you know, that's about it." How often will those reports be, every quarter? "Depending, yeah, depending." Could be more, could be less? "Yeah, probably quarterly." One thing is clear: "My father and I are very close," Eric Trump says. "I talk to him a lot. We're pretty inseparable."

The apparent contradiction troubles ethics experts. "The statement that the president made earlier that he wasn't going to talk to his children about the business sounded good, but the reality was there was no way to enforce it," says Larry Noble, general counsel of the nonpartisan Campaign Legal Center and a former chief ethics officer at the Federal Election Commission. "He is breaking down one of the few barriers he claimed to be establishing between him and his businesses, and those barriers themselves were weak to begin with. But if he is now going to get reports from his son about the businesses, then he really isn't separate in any real way."

George W. Bush's former chief ethics lawyer, Richard Painter, expressed a similar sentiment. "It just means that a lot of what they say is malarkey because the president isn't distancing himself from the business," he says. "It doesn't matter how much of the management is being delegated. Things are always delegated in business, down to who the hotel clerk is at the Trump hotel. But at the end of the day, he owns the business. He has the conflicts that come with it."
This arrangement was a joke from the start, but it's nice to see Eric Trump come right out and admit it. There is one and only one way to avoid such conflicts of interest and that would be to sell off all the assets and put the proceeds into a blind trust. Anything short of that is undoubtedly going to affect policy at some point.