The Washington Post is reporting that Erik Prince, founder of the notorious mercenary company Blackwater, held secret meetings to establish a back channel of communication between Donald Trump and Vladimir Putin shortly before Trump's inauguration in January.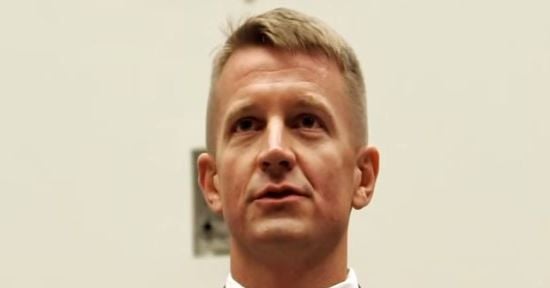 The United Arab Emirates arranged a secret meeting in January between Blackwater founder Erik Prince and a Russian close to President Vladi­mir Putin as part of an apparent effort to establish a back-channel line of communication between Moscow and President-elect Donald Trump, according to U.S., European and Arab officials.

The meeting took place around Jan. 11 — nine days before Trump's inauguration — in the Seychelles islands in the Indian Ocean, officials said. Though the full agenda remains unclear, the UAE agreed to broker the meeting in part to explore whether Russia could be persuaded to curtail its relationship with Iran, including in Syria, a Trump administration objective that would likely require major concessions to Moscow on U.S. sanctions.

Though Prince had no formal role with the Trump campaign or transition team, he presented himself as an unofficial envoy for Trump to high-ranking Emiratis involved in setting up his meeting with the Putin confidant, according to the officials, who did not identify the Russian.

Prince was an avid supporter of Trump who gave $250,000 last year to support the GOP nominee's campaign, records show. He has ties to people in Trump's circle, including Stephen K. Bannon, now serving as the president's chief strategist and senior counselor. Prince's sister Betsy DeVos serves as education secretary in the Trump administration. And Prince was seen in the Trump transition offices in New York in December.

U.S. officials said the FBI has been scrutinizing the Seychelles meeting as part of a broader probe of Russian interference in the 2016 U.S. election and alleged contacts between associates of Putin and Trump. The FBI declined to comment.
Anything that involves Erik Prince sets off my alarms, but the fact that this took place after the election means it isn't particularly relevant to the question of whether the Trump campaign or people close to him colluded with the Russians during the campaign to release damaging information on Hillary Clinton. Still, the fact that the FBI is investigating it means they think it's relevant to the other aspects of the Russia story that they're working on.
There are really three issues here involving Trump and Russia:
1. Did Trump or anyone close to him work with the Russians to disseminate damaging information on Clinton gained by Russian hacking?
2. What are Russia's capabilities to interfere in our elections in the future?
3. Who has been leaking all of this information, including the names of Trump associates inadvertently caught on wiretaps on the communications of Russian officials?
It doesn't seem to me that this new information about Prince involves any of those questions, but the FBI may well be investigating aspects of the story that I haven't thought of. Certainly, it should raise some red flags.