Kevin Swanson, the deranged right-wing pastor and radio talk show host who thinks gay people should be put to death (and still gets major Republican figures to appear with him on stage) says that any pastors who have gay children should resign because there's something wrong with them too.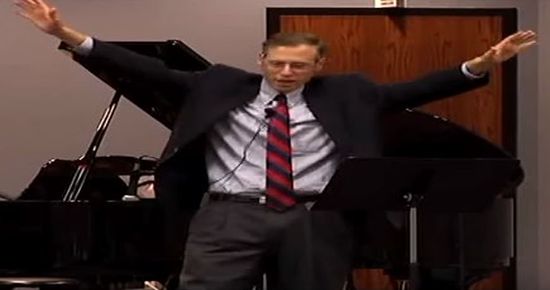 The proper response from a pastor who has gay children, Swanson said, "is sackcloth and ashes, tearing of the clothes, crying out to God for mercy" and repenting "that there is something terribly wrong with our family" and "that there is something terribly wrong in me."

Having a gay child is a sign that "there may be something very, very wrong with the pastor himself," Swanson said, expressing disbelief that "a man who thinks there is a possibility his kids could come out gay [would not] then not turn to himself and see there to be something of a problem with himself."

"As a pastor, if your children turn out to be sinners," he stated, "if it turns out they abandoned the faith while they are in the household, accused of riot and unruly debauchery, et cetera, within the household, you need to resign as a pastor."
Yeah, you should have stoned your kid the moment you found out, you spineless liberal simp! Our all-loving God said so!