The Rapidian, a local Grand Rapids magazine, has an article about my home community, CFI Michigan, sponsoring this Saturday's March for Science at the state capitol. My dear friend and our program director, Jennifer Beahan, is one of the speakers at the event.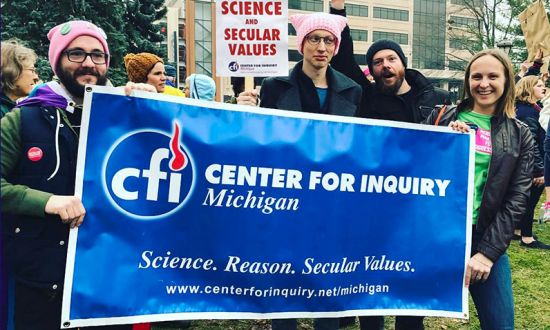 Center for Inquiry (CFI) Michigan, a local secular community group, is officially sponsoring the March for Science in Lansing on Saturday, April 22nd. Jennifer Beahan, CFI Michigan Program Director, will be a featured speaker at the Lansing March, and CFI members will be attending the march in Lansing, as well as several satellite marches throughout the state.

"We are sponsoring the march because science is a core aspect of our mission. It is vital that we speak out against efforts by the current administration and Congress to deny facts and reject reason on crucial issues such as climate change, vaccinations, reproductive rights, and fake medicine," Beahan said. "When our leaders choose to reject science and embrace superstition, pseudoscience, and conspiracy theories, they are endangering the lives of their own citizens and putting our planet at risk."…

For those in the Grand Rapids area who plan on marching, CFI Michigan is also hosting a Sign-making Party the night before. In recent years, CFI has become an increasingly influential force for the promotion and defense of science in society and public policy and boasts fellows such as astronomer Neil deGrasse Tyson, and science communicator Bill Nye. In recent years, it has played an indispensable role in several science-related issues on a national scale, including the launch of the TIES program, which educates middle school teachers on how to teach evolution, and the Keep Healthcare Safe and Secular Campaign which ensures that healthcare policy decisions are made on scientific grounds, and not based on religion, "tradition" or pseudoscience.
This is great publicity for us and it will almost certainly reach some people who agree with our mission but didn't know we're here. We get the same thing every time we put up a billboard, people showing up at the next meeting saying "We didn't know about you guys but we've been looking for a secular community." Unfortunately, I won't be able to attend the march, but Jen is going to be brilliant in standing up for sound science that informs public policy.