[Update]: This was obviously written and scheduled to go up before the announcement from Fox that O'Reilly is indeed being let go.] The Wall Street Journal, which is owned by the Murdochs, the same people who own Fox News, is reporting that Fox is "preparing to cut ties" with Bill O'Reilly over more than a decade's worth of sexual harassment claims for which they've paid out millions in settlements.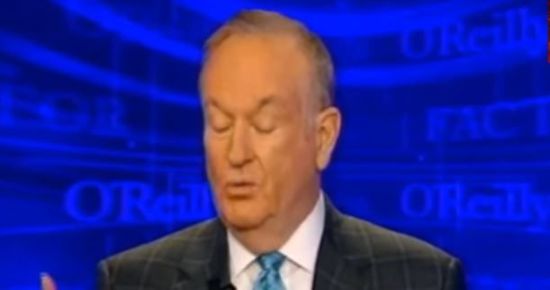 Fox News is preparing to cut ties with star anchor Bill O'Reilly, according to people close to the situation, after revelations that he and Fox parent 21st Century Fox settled multiple sexual harassment complaints led to an exodus of advertisers from his show and mounting pressure on the network.

A final resolution on the fate of Mr. O'Reilly, host of the "The O'Reilly Factor," could come as early as the next several days, the people said.

21st Century Fox, which will hold a board meeting Thursday, hasn't finalized an exit agreement with Mr. O'Reilly, the people close to the situation said…

Mr. O'Reilly has denied any wrongdoing, saying he paid settlements to "put to rest any controversies to spare my children."

On Tuesday, an attorney for Mr. O'Reilly said the host has "been subjected to a brutal campaign of character assassination that is unprecedented in post-McCarthyist America" and added that he has "evidence that the smear campaign is being orchestrated by far-left organizations bent on destroying O'Reilly and Fox News for political and financial reasons."…

Initially, Fox News and parent 21st Century Fox stood by their highly-rated host. However, as advertisers fled the O'Reilly program, internal debate ensued over the pros and cons of keeping Mr. O'Reilly on the air. Since the Times published its initial report, dozens of advertisers have pulled out of "The O'Reilly Factor," many of them shifting their ad buys to other programs on Fox News.
That last part is likely the key. Gabe Sherman, who is very well connected at Fox, had earlier reported that the mass exit of advertisers from the show had left a revenue gap that was :worse than Glenn Beck," a reference to a similar exodus from Beck's Fox News show that ended with him leaving the network as well. Given that they apparently pay O'Reilly something like $20 million a year, serious financial losses like that can't possibly be sustained. It doesn't do him much good to get 4 million viewers a night if that viewership doesn't translate to big ad revenue.
So if this does happen, what does O'Reilly do? The other cable networks wouldn't touch him with a 10-foot pole. Does he launch his own online network like Beck did? His audience is considerably larger than Beck's, so that's probably doable. He might do that in conjunction with someone like Newsmax or Breitbart. For now, though, it looks like he's entering the No Job Zone.