Since he's now lost his job as chief justice in Alabama twice, theocrat Roy Moore has decided to run for the Senate. He'll challenge Luther Strange, also a Republican, who was appointed to fill in for Jeff Sessions when he became Attorney General, along with several other candidates.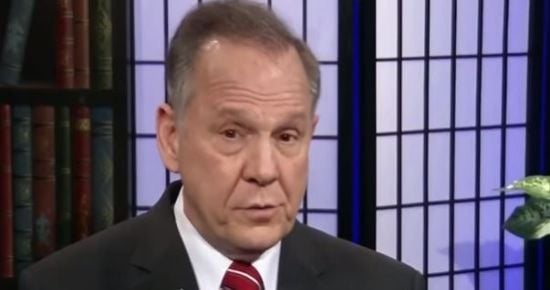 Roy Moore today announced he is resigning from his position as the Chief Justice of the Alabama Supreme Court to run for the United States Senate.

"I'll stand for the rights and liberties of the people," Moore announced to cheering supporters and to reporters gathered at the State Capitol.

"My position has always been God first, family then country," Moore said. "I share the vision of President Donald Trump to make America great again," Moore said.

He later added, "Before we can make America great again, we've got to make America good again."
And by "good," he means we should start putting gay people in prison or even executing them. That's what he actually argued in an Alabama Supreme Court ruling in a custody case that didn't even involve the fact that the mother was a lesbian. But that simple fact caused Moore to go full-on Christian Reconstructionist:
To disfavor practicing homosexuals in custody matters is not invidious discrimination, nor is it legislating personal morality. On the contrary, disfavoring practicing homosexuals in custody matters promotes the general welfare of the people of our State in accordance with our law, which is the duty of its public servants. Providing for the common good involves maintaining a public morality through both our criminal and civil codes, based upon the principles that right conscience demands, without encroaching on the jurisdiction of other institutions and the declared rights of individuals.

The State may not interfere with the internal governing, structure, and maintenance of the family, but the protection of the family is a responsibility of the State. Custody disputes involve decision-making by the State, within the limits of its sphere of authority, in a way that preserves the fundamental family structure. The State carries the power of the sword, that is, the power to prohibit conduct with physical penalties, such as confinement and even execution. It must use that power to prevent the subversion of children toward this lifestyle, to not encourage a criminal lifestyle.
That guy could be in the Senate in 2019. If that doesn't scare the hell out of you, I don't know what would.