As I'm sure you've heard by now, Trump made some absolutely bizarre comments about how Andrew Jackson was angry about the Civil War, which took place long after he died, and that he could have prevented it from happening if he'd been president at the time.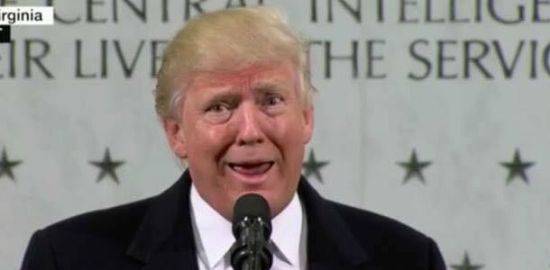 "People don't realize, you know, the Civil War, if you think about it, why?" Trump said in an interview with The Washington Examiner that also aired on Sirius XM radio. "People don't ask that question, but why was there the Civil War? Why could that one not have been worked out?"…

Trump's comments about the war came after he lauded Jackson, the populist president whom he and his staff have cited as a role model. He suggested that if Jackson had been president "a little later, you wouldn't have had the Civil War."

"He was really angry that he saw what was happening with regard to the Civil War. He said, 'There's no reason for this,'" Trump continued.

Jackson died in 1845. The Civil War began in 1861. In a tweet Monday night, Trump revisited the point he was trying to make: "President Andrew Jackson, who died 16 years before the Civil War started, saw it coming and was angry. Would never have let it happen!"
Since Trump quite literally has no idea what he's talking about, perhaps it's foolish to even bother asking how he thinks Jackson would have avoided the Civil War. By outlawing slavery? That wouldn't do it. And Jackson didn't want that anyway. He was a slave owner who publicly offered rewards to those who returned escaped slaves, and even ponied up some extra cash if they beat and whipped the slave before bringing him back:
Jackson, who would become the country's seventh commander in chief in 1829, promised anyone who captured this "Mulatto Man Slave" a reward of $50, plus "reasonable" expenses paid.

Jackson added a line that some historians find particularly cruel.

It offered "ten dollars extra, for every hundred lashes any person will give him, to the amount of three hundred."
The ad was signed, "ANDREW JACKSON, Near Nashville, State of Tennessee."
"Stop the Runaway," Andrew Jackson urged in an ad placed in the Tennessee Gazette in October 1804. The future president gave a detailed description: A "Mulatto Man Slave, about thirty years old, six feet and an inch high, stout made and active, talks sensible, stoops in his walk, and has a remarkable large foot, broad across the root of the toes — will pass for a free man.…"
That must be what Trump meant when he said that Jackson "had a big heart." Unless you were black, of course. Or Native American, the people he had removed from their land while killing thousands of them in the process. He's also the president who had the U.S. Postal Service refuse to deliver anti-slavery tracts through the mail. The only way Jackson would have tried to prevent the Civil War is by maintaining slavery.