It seems that Donald Trump's ignorance about the Civil War doesn't stop with thinking Andrew Jackson would have prevented it. The New York Times reported a year and a half ago on a plaque at one of his golf courses that commemorates a Civil War battle that never took place, of which he is very proud.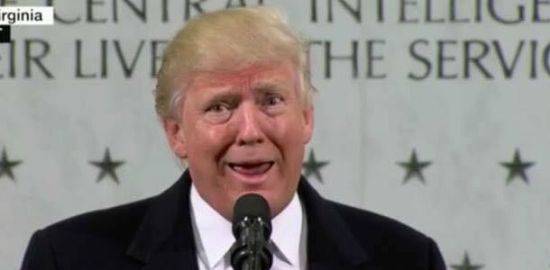 Between the 14th hole and the 15th tee of one of the club's two courses, Mr. Trump installed a flagpole on a stone pedestal overlooking the Potomac, to which he affixed a plaque purportedly designating "The River of Blood."

"Many great American soldiers, both of the North and South, died at this spot," the inscription reads. "The casualties were so great that the water would turn red and thus became known as 'The River of Blood.' "

The inscription, beneath his family crest and above Mr. Trump's full name, concludes: "It is my great honor to have preserved this important section of the Potomac River!"

Like many of Mr. Trump's claims, the inscription was evidently not fact-checked.

"No. Uh-uh. No way. Nothing like that ever happened there," said Richard Gillespie, the executive director of the Mosby Heritage Area Association, a historical preservation and education group devoted to an 1,800-square-mile section of the Northern Virginia Piedmont, including the Lowes Island site.

"The only thing that was remotely close to that," Mr. Gillespie said, was 11 miles up the river at the Battle of Ball's Bluff in 1861, a rout of Union forces in which several hundred were killed. "The River of Blood?" he added. "Nope, not there."…

In a phone interview, Mr. Trump called himself a "a big history fan" but deflected, played down and then simply disputed the local historians' assertions of historical fact.

"That was a prime site for river crossings," Mr. Trump said. "So, if people are crossing the river, and you happen to be in a civil war, I would say that people were shot — a lot of them."
As usual, Trump gets something completely wrong and then refuses to admit it or correct himself. And as usual, he is abysmally ignorant of history. And as usual, his sycophants excuse it away:
"There's a certain amount of hunting for 'what is it that Trump has done that's dumb?'" said Newt Gingrich, the former speaker of the House, who taught history as a college professor in Georgia and has written multiple historical novels. "Trump's not a student of history. Trump's an extraordinarily successful, entrepreneurial personality who learns what he needs to know when he needs to know it. Trump is learning history as he governs."
So he's ignorant of history, yet he keeps making bold and false claims about it. Maybe it wouldn't be so easy to point out what it is he's said that's dumb if he stopped so many dumb things. He is the walking embodiment of the Dunning-Kruger effect.