Former Alabama Supreme Court Justice Roy Moore, who is a genuine Christian Reconstructionist who wants the state to murder gay people in the name of God, is running for the Senate. The Republican party doesn't want him to win, which is really upsetting the authoritarian bigots at the Worldnetdaily.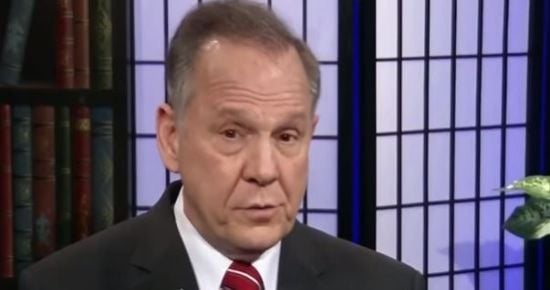 And Moore already has an issue on which to campaign: the Washington elite's declared support for Strange and their warning to any who would oppose him.

The Washington elite have given Strange the designation of "incumbent" although he's been in Washington only a few months and are warning contractors, advisers and the like not to work with anyone opposing Strange.

Moore campaign spokesman Dean Young said that effort by Beltway insiders to influence Alabama voters was discovered when one of Moore's contractors, running the campaign website, abruptly quit.

The Andalusia Star News reported the National Republican Senatorial Committee "is warning consulting firms that they would face retribution if they work against Strange in the August primary."

NRCS communications director Katie Martin told Politico: "We have made it very clear from the beginning that Sen. Luther Strange would be treated as an incumbent. It has also been a clear policy that we will not use vendors who work against our incumbents."
This is smart for the GOP. Even in today's Republican party, Moore is on the fringe of the fringe. And they know damn well that while he may still be popular in Alabama, having a Republican senator who advocates the death penalty for gay people is just handing the Democrats a stick with which to beat them.