One of the things that has come out over the first few months of his administration is that Donald Trump simply doesn't have the attention span or the interest in learning to adequately understand the policy briefings he gets, especially when it comes to national security briefings.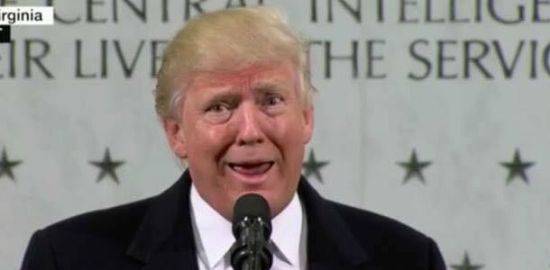 Most mornings, often at 10:30, sometimes earlier, Trump sits behind the historic Resolute desk and, with a fresh Diet Coke fizzing and papers piled high, receives top-secret updates on the world's hot spots. The president interrupts his briefers with questions but also with random asides. He asks that the top brass of the intelligence community be present, and he demands brevity.

As they huddle around the desk, Trump likes to pore over visuals — maps, charts, pictures and videos, as well as "killer graphics," as CIA Director Mike Pompeo phrased it.

"That's our task, right? To deliver the material in a way that he can best understand the information we're trying to communicate," said Pompeo, adding that he, too, prefers to "get to the core of the issue quickly."

Yet there are signs that the president may not be retaining all the intelligence he is presented, fully absorbing its nuance, or respecting the sensitivities of the information and how it was gathered.

Earlier this month, for instance, Trump bragged to top Russian diplomats about the quality of the intelligence and revealed highly classified information, related to the fight against the Islamic State, that had been shared by a U.S. partner.

"I get great intel. I have people brief me on great intel every day," Trump told Russian Foreign Minister Sergei Lavrov and Ambassador Sergey Kislyak during their May 10 meeting in the Oval Office, according to a U.S. official with knowledge of the exchange…

When he took office, Trump signaled to his national security team that he favors concise points boiled down to a single page.

"I like bullets or I like as little as possible," he said in a pre-inaugural interview with Axios. "I don't need, you know, 200-page reports on something that can be handled on a page."

Trump also has encouraged his briefers to include as many visual elements as possible. This is a reflection, aides said, of Trump's career as a real estate developer who evaluated blueprints and renderings to visualize what a property eventually would look like.

"Sometimes," Coats said, "pictures do say a thousand words."
And sometimes it just means you're dealing with a person who doesn't care about things like subtlety, nuance or complexity, and that has long been one of the key traits displayed by Trump. He thinks the world is incredibly simple and he has neither the interest or the ability to handle anything more complex than that. George W. Bush was exactly the same way, according to a book I just finished by an Iraq specialist at the CIA who briefed him several times. If they think the world is simple, they want every answer to be simple.
This is what happens when you elect a child as president. And in every relevant way, Trump behaves very much like a child.