Pat Robertson joined the brigade of Christian right con artists claiming that Donald Trump was put in power by God. They never seem to mention, though, that the Bible quite clearly says that all governments are put in power by God.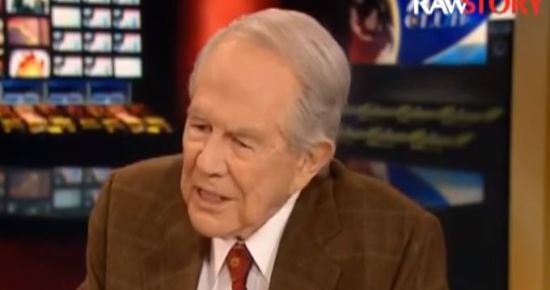 Today on "The 700 Club," Pat Robertson urged viewers to pray for Donald Trump because "there is a spiritual battle against our president."

"He's God's man for this job," Robertson said, thanking the president for taking "steps that please most evangelicals."

God, he continued, put Trump "in this office."
But if the words of Paul are to be believed, God puts all governments in power, even Adolf Hitler. Romans 13:
Let everyone be subject to the governing authorities, for there is no authority except that which God has established. The authorities that exist have been established by God. Consequently, whoever rebels against the authority is rebelling against what God has instituted, and those who do so will bring judgment on themselves.
No authority except that which God has established. Funny, though, you only ever hear the Christian right making this claim about people they agree with or support, never about anyone else.